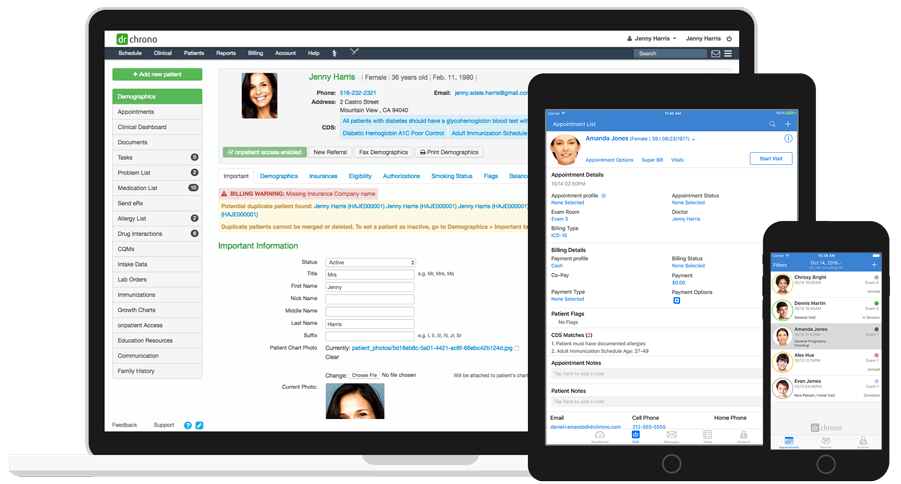 Mobile EHR provider drchrono has raised $12 million in Series A funding led by Runa Capital with participation from Maxfield Capital, Eric Dunn (CEO of Quicken Inc. and Intuit's first CTO), and FundersClub. Andre Bliznyuk from Runa Capital and Oleg Koujikov from Maxfield Capital have joined the drchrono board of directors as part of this funding round. The company plans to utilize the funding to invest in their EHR platform, talent acquisition, operation expansion to support their growth demand and also focus on advancing iOS apps as an Apple mobility partner.
Since its inception, drchrono has expanded its EHR features, capabilities and RCM services for larger healthcare organizations as well as its API to allow other developers to build on top of the drchrono platform.  Hundreds of developers have integrated apps on the platform from startups like Eko Devices wearable digital stethoscope, to Health Gorilla, which allows practices to connect to any lab company. Larger companies like ZocDoc and DemandForce have also integrated with drchrono to create a better provider experience.
The company is scheduling over 1 million appointments per month and has over $12M in annual recurring revenue.The platform has over 8 million patients under the care of drchrono physicians. More than $3.5 billion in medical claims have been submitted through drchrono. Physicians are now leveraging different aspects of the platform including electronic health records, practice management, patient education, as well as medical billing and RCM services to manage and grow their practices.
"drchrono is at a pivotal stage in the company's growth," said Michael Nusimow, cofounder and CEO of drchrono.  "Our platform is crossing a continuum of care as we expand our customer base from solo practices to midsize and now larger health organizations with an all-in-one EHR, practice management and RCM solution." Michael goes on to say, "The support of our investors allows us to expand our successful platform to meet the needs of physicians and practices of all sizes, and across all specialties, and continue to innovate in mobile healthcare technology."