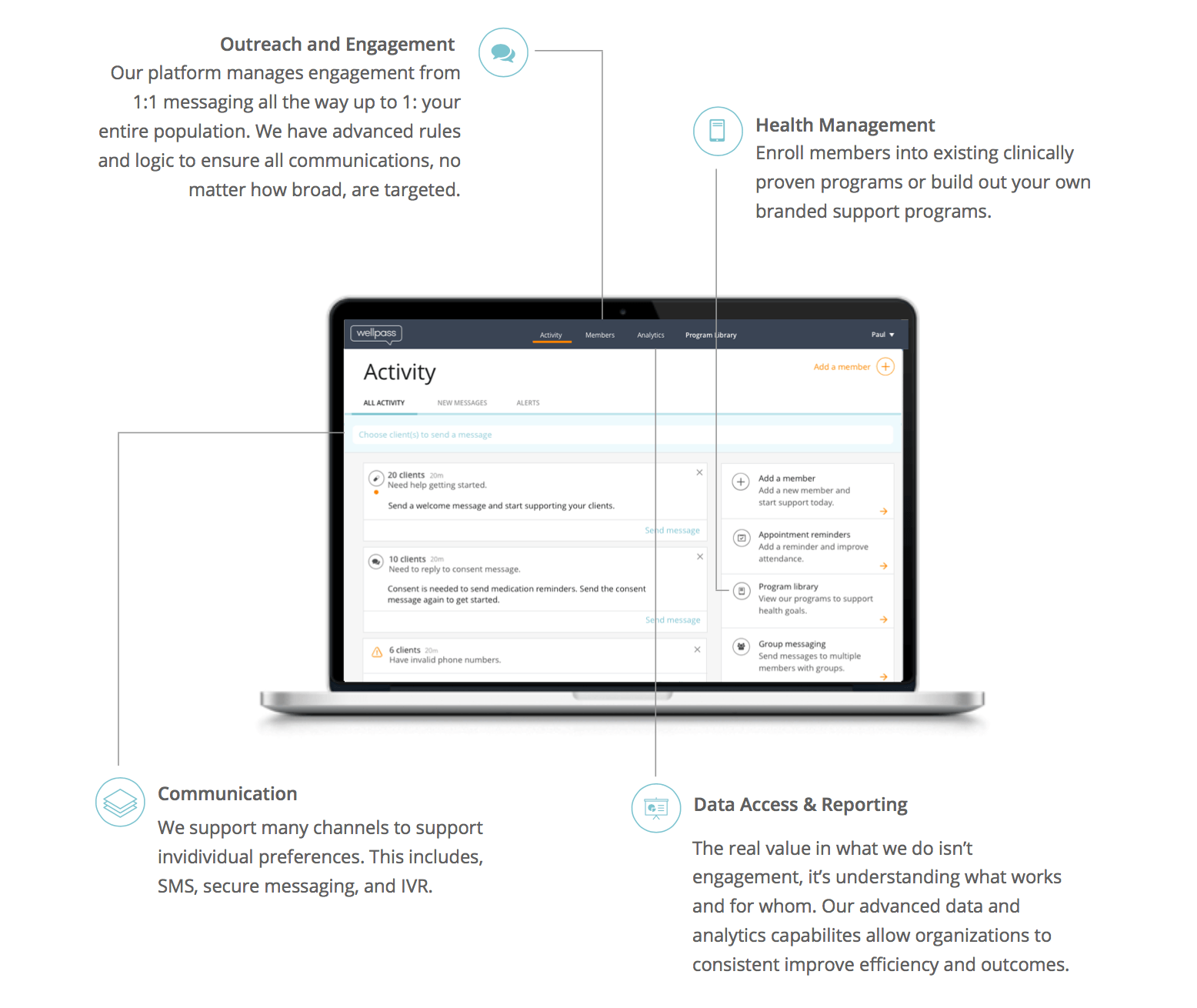 Voxiva and Sense Health has merged to form a new venture, Wellpass, Inc., a new digital health platform  serving payers, providers and people. Wellpass combines Voxiva's proven mobile health and wellness programs with the innovative and flexible patient engagement platform developed by Sense Health. The companies' digital health services have supported over 3 million people and delivered proven clinical outcomes documented in extensive published research. The Wellpass platform is launching with an existing client base of more than 30 health provider organizations, over 70 state Medicaid health plans, and 10 state government agencies.
Wellpass offers an integrated messaging and engagement platform designed to address the complex needs of healthcare organizations, helping to improve outcomes, achieve clinical and quality goals, and lower costs. The platform enables health plans and providers to send SMS text-based and secure messages to individuals (one-to-one) or to an entire population, enroll members in existing evidence-based health, wellness and condition-specific programs, create customized programs to meet specific needs (gap-in-care alerts, appointment reminders, eligibility re-determination), and access real-time response and engagement data. The platform is HIPAA-compliant and HITRUST certified.
Wellpass provides access to more than 20 evidence-based health programs such as maternal health (Text4baby), diabetes management (Care4life), smoking cessation (Text2quit), and adult and pediatric preventive health. These Wellpass programs are free for people and they can keep them for life, regardless of health coverage or where they access care. These programs have demonstrated significant positive impacts on health outcomes, as documented in extensive peer-reviewed research and claims data analysis (Full research bibliography available at ).
Proven outcomes aligned with key quality goals include:
– 2x increase in smoking abstinence
– 2x increase in flu shot utilization
– 26% increase in well baby visits
– 18% increase in well child visits
– 44% increase in dental visits
– 40% improvement in appointment attendance
"For the last five years, we have been focused on helping health care providers engage and support their patients more effectively," said Stan Berkow, Sense Health co-founder/CEO and EVP of Product at Wellpass. "The Sense Health platform serves as the foundation of the Wellpass messaging and engagement platform that will be supporting millions of members over the coming months. Joining forces with Voxiva to launch Wellpass allows us to deploy these services at massive scale across the Medicaid market."