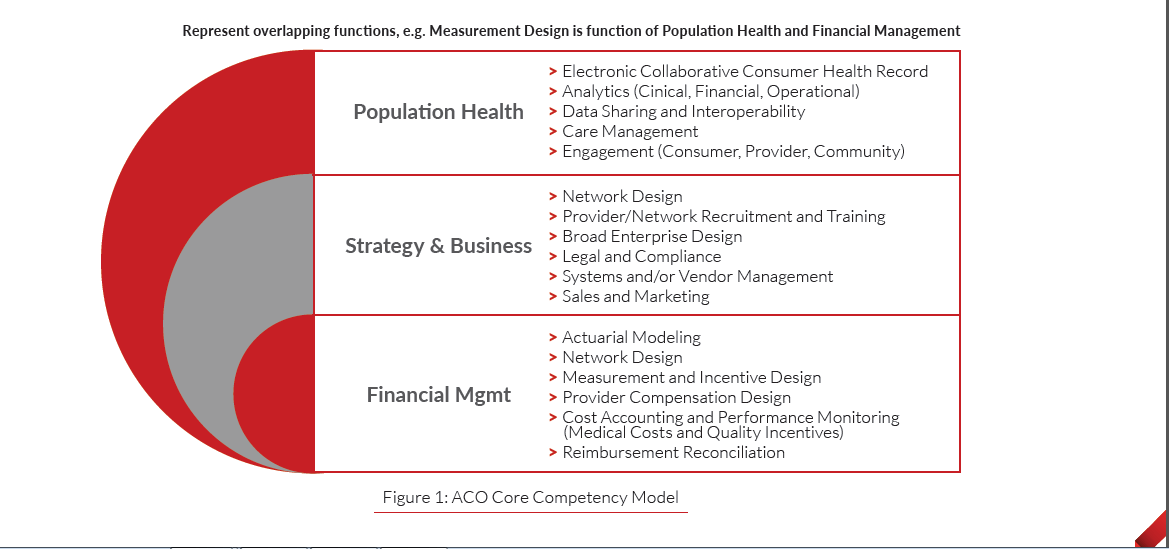 Successfully enabling an Accountable Care Organization is extremely challenging: There isn't one standard ACO model; there isn't one single ACO national policy; there isn't one specific map to follow to build an ACO nor measure its success. There are few if any best practices readily available for healthcare organizations to adopt and make a successful transition to value-based care (VBC) within an ACO model. This has created a strong market need for high-service solution vendors that can guide healthcare organizations (HCOs) on the ACO path.
The latest report from Chilmark Research, Vendors Enabling the ACO: Reducing the Risk of Risk-Based Arrangements, is the first report of its kind to assess the 10 leading ACO Enablement vendors in the market today. These vendors assist HCOs across the spectrum in their migration to an ACO model of care. The report will help providers better understand vendor options, including vendor capabilities, markets served and core competencies.
ACO Defined
For purposes of this report, Chilmark Research provides the following definition for an ACO:
Formal entities comprised of groups of providers (may include physicians, hospitals, ancillary providers) who agree per a legal contract with one or more payers (may include CMS or a commercial payer) to share accountability for cost and quality of care delivered to a pre-defined patient population. In return, they share financial gains or losses, which can be in the form of bonuses or percent of savings/losses, depending on their performance against associated cost and quality metrics.
Report Overview
The report opens by identifying key components and requirements of at-risk providers and ACOs, including a discussion of ACO market growth and historical challenges encountered. The report discusses assessment criteria and guidance on the technology requirements and hurdles faced by ACOs then takes a detailed look at the 10 specific vendors selling full ACO enablement solutions. It concludes with projections of the future market trajectory, as well as recommendations for both ACOs and the Enabler vendor niche.
Key Findings
– Despite the complexity of the ACO model, ACO growth has climbed steadily since 2012, with over 1,300 ACO contracts now executed in the U.S. Yet, this VBC model is by no means mainstream, covering only 10% of the U.S. population.
– Despite this relatively small number, Chilmark research uncovered a market that is far from plateauing and will see accelerated growth as both commercial and government payers look to ACO models of care as key to their efforts to rein in costs while improving quality and access to care.
– ACO Enablers have a strong tendency to build their own population health management (PHM) technology solutions vs partnering, injecting the market with enterprise data warehouses (EDWs) and analytics platforms they position as critical to ACO success.
– Encouraged by continued model refinements that attempt to resolve the challenges ACOs experience, Chilmark expects ACO growth to continue, propelled both by CMS and private sector payers and despite any realignment that may come out of the change in political administrations.
ACO Enabler Vendor Market
The Enabler vendor niche serves a broad function in the industry by lobbying with the Centers for Medicare and Medicaid Services (CMS) and partnering with both CMS and commercial payers to help determine the future direction of VBC models. The ACO Enabler enjoys the combined attributes of several other HIT vendor types, including:
·         Incumbency position of EHR vendors
·         Technology range of PHM vendors
·         Local and personalized services of consulting firms
Chilmark expects the Enabler market to continue to grow commensurate with growth in ACO contracts. 
"Approximately half of these vendors have established a value proposition to support a unique market sub-segment of ACOs, while the other half offer generalized solutions to the ACO and VBC market at large," said Jennifer Rogers, Chilmark Research analyst and author of this report in a statement. "We anticipate the ACO market will coalesce around the more differentiated ACO Enablers, with the non-differentiated focusing instead on other VBC services as revenue opportunities."