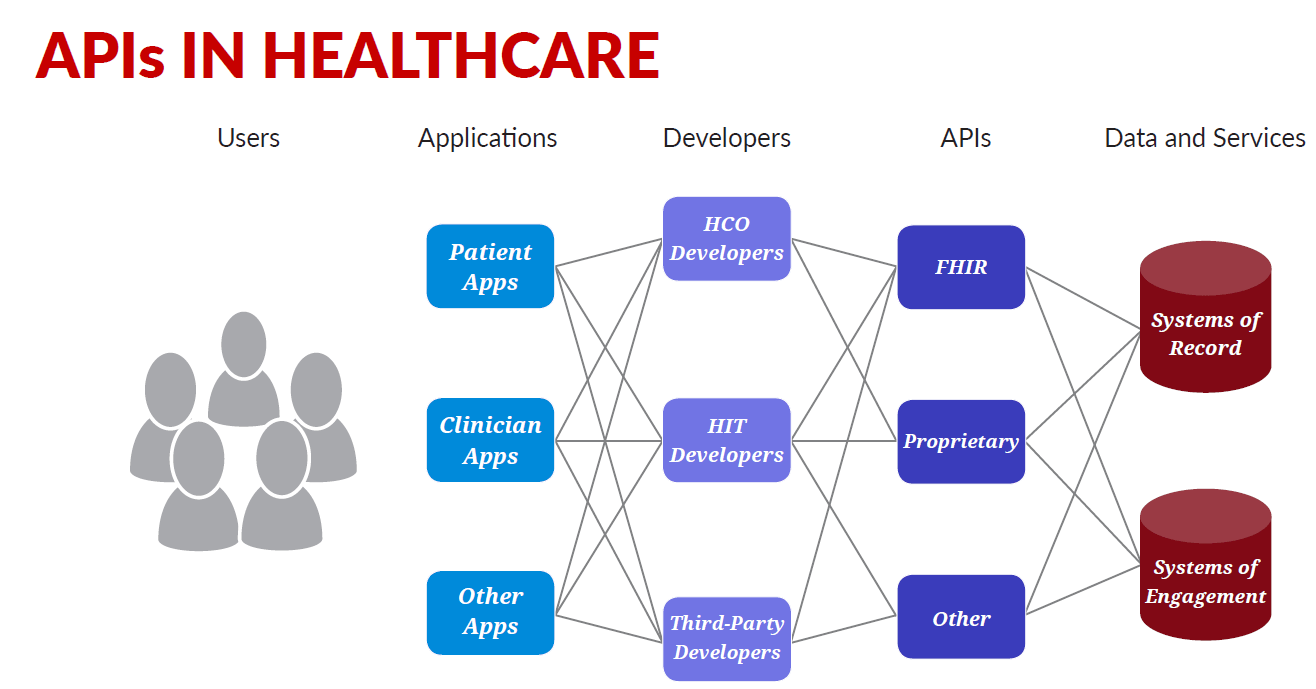 Clinical and other leaders see APIs in healthcare as technology-enablers of process change and evolving care models, according to Chilmark Research latest report. The latest report, APIs for a Healthcare App Economy: Paths to Market Success, finds high expectations for APIs to support healthcare innovation and more dynamic engagement across stakeholders.
The API Opportunity in Healthcare
Sponsored by Cerner, InterSystems, Orion Health and PokitDok, Chilmark conducted a broad survey of the healthcare market to solicit ideas and opinions about the opportunities and challenges represented by APIs. The report reveals clinicians and other healthcare end-users expect the digital revolution spawned by APIs in consumer applications and in other industries to begin happening in healthcare. There is broad consensus that it is incumbent on the largest HIT vendors and their large HCO customers to lead the way in the development of API program that can support the kind of application ecosystem so prevalent outside healthcare. The leading candidate for an open set of healthcare APIs is based on the FHIR standard with strong support from the largest vendors and HCOs. Smaller HCOs and vendors are less concerned with whether APIs are open or proprietary for the moment.  
Key Findings

Key findings for HCOs and HIT vendors that are beginning to build API programs include:
– It will be impossible to offer an effective way to build better applications without a developer support program built around APIs.
– Building and operating an API program will be a new undertaking for most HCOs and they will need support and guidance from the major HIT vendors.
– A small number of HIT vendors have a head start but many are only just beginning to get serious about API programs.
– Successful examples from outside healthcare are ubiquitous.
– HIT vendors will need to evaluate their current API practices and model their efforts on these successful best practices.
"Physicians in particular see APIs as a way to make EHRs more functional and user responsive. But it is not just EHRs where APIs can make a difference. Almost every application in healthcare can benefit from more attention to the needs of healthcare users and the demands placed on their time and attention. Expectations are high that APIs can improve the user experience, enhance app functionality and more fully utilize data across connected healthcare enterprises", says Brian Murphy, lead author researcher on this project in a statement.
While it will take time for API-based development and integration to take hold, this new report puts some weight behind the idea that healthcare stakeholders see APIs as a way to hasten what most regard as inevitable – better applications for HCO users and patients in support of the quadruple aim: better outcomes, improved patient experience, improved clinician experience and lower costs.