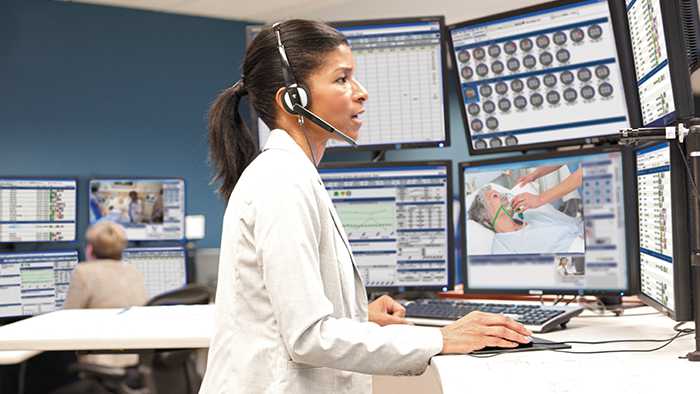 Philips has announced the results of a study that finds Philips eICU Program with centralized bed management control increased case volume by up to 44 percent and improved contribution margins by up to 665 percent, or $52.7 million. The study, which will be published in CHEST Journal in February, was authored by Craig M. Lilly, M.D., Professor of Medicine, Anesthesiology and Surgery at the University of Massachusetts Medical School and Director of the eICU Program at UMass Memorial Medical Center, and led by population health leader Philips. The study demonstrates how tele-ICU programs are increasing case volume and access to high quality critical care while improving financial margins in population health management.
Study Background
The study, entitled "ICU Telemedicine Program Financial Outcomes," looked at more than 51,000 patients across seven adult ICUs on two campuses of an 834 bed academic medical center. While tele-ICUs have previously been associated with improving mortality rates and length of stay, this study is the first to address in depth the financial outcomes. 
The study assessed three clinical models of ICU care over time:
1. Traditional ICU care without telemedicine
2. Centralized tele-ICU care
3. Tele-ICU care with a logistical center to improve ICU bed utilization
Key Findings
Researchers compared case volume (number of patients cared for) and contribution margins (total case revenue minus direct costs, including costs of the eICU Program) for each model that revealed:
– An Intensive Care unit managed by a tele-ICU improved case volume by 21 percent over traditional models
– A centralized tele-ICU model of care improved contribution margins by 376 percent ($37.7 million compared to $7.9 million) due to increased case volume, shorter lengths of stay (LOS) and higher case revenue relative to direct costs
– A tele-ICU,  when co-located with a logistical center, improved case volume 38 percent over traditional models
– A tele-ICU with added logistical center and quality care standardization improved contribution margins by 665 percent ($60.6 million compared to $7.9 million)
– This care delivery model allowed recovery of the initial capital costs of the ICU telemedicine program in less than 3 months
 "The ability of tele-ICU programs to increase case volume and access to high quality critical care while improving margins suggests a strong financial argument for wider adoption of ICU telemedicine by health systems and intensivists," said Dr. Lilly. "It has been well documented that properly implemented telehealth programs can have a significant impact on patient outcomes, and this study now supports the financial investment behind it."
Philips will be showcasing the eICU Program and the launch of CensusMosaic as part of its Tele-ICU software suite eCareManager at the 46th Critical Care Congress (SCCM) in Hawaii January 21-25 2017.