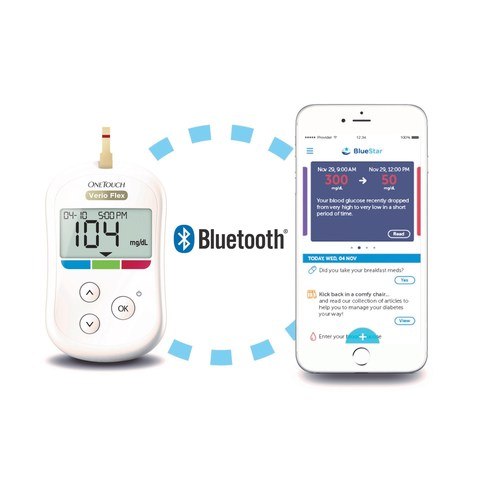 The U.S. Food and Drug Administration (FDA) announced it has cleared the wireless integration of the OneTouch Verio Flex® blood glucose monitoring system with WellDoc Inc.'s clinically validated diabetes management platform, BlueStar®. The integration will create an integrated, connected experience for people with Type 2 diabetes and deliver value for healthcare providers. 
Integration Details
Using blood glucose data wirelessly and automatically transmitted from the OneTouch Verio Flex blood glucose monitoring system with built-in Bluetooth®[i] Smart Technology, WellDoc Inc.'s patented clinical and behavioral engine will provide patients with individualized real-time feedback and virtual coaching based on the patient's specific treatment plan, and also help health care teams make timely diabetes management decisions. Along with the OneTouch Reveal web and mobile app, the offering seeks to create a comprehensive, data-driven and payer-reimbursed program for the management of Type 2 diabetes.
LifeScan's OneTouch Verio Flex meter with BlueTooth® Smart Technology features ColorSure is a simple, accurate and easy-to-use meter that takes the guesswork out of blood sugar test results for people with diabetes. The OneTouch Verio Flex® meter also has optional wireless connectivity with the OneTouch Reveal® mobile app to help patients manage their diabetes. WellDoc's BlueStar® is a digital therapeutic platform cleared by the U.S. Food and Drug Administration for adults with Type 2 diabetes.
"Our partnership with WellDoc highlights our sustained commitment in helping to drive better health outcomes by building a more connected patient experience. Integrating digital solutions such as OneTouch Reveal® mobile app and BlueStar® will help patients self-manage their diabetes and create value for health care providers," said Valerie Asbury, World Wide President, LifeScan, Inc.
LifeScan and WellDoc are currently working with health plans to help provide patient access for this integrated system.