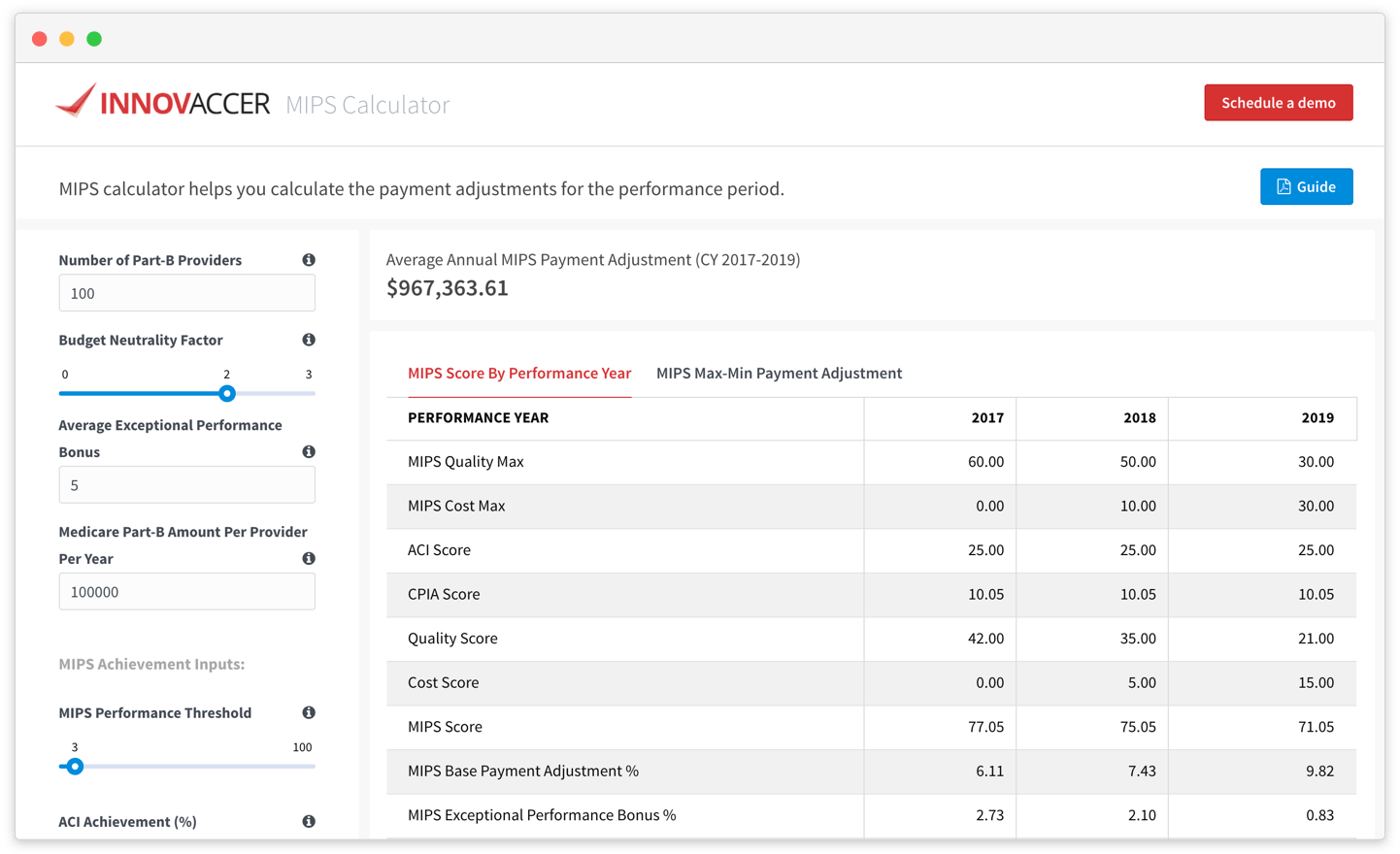 Innovaccer Inc., a Silicon Valley-based healthcare analytics company has unveiled a Merit-based Incentive Payment System (MIPS) Calculator, a free tool for healthcare providers to estimate the financial impacts of MIPS as per the latest MACRA rule. The MIPS Calculator has been designed with an aim to help all the providers planning to participate in MIPS in the coming year. With a clear and detailed analysis of all the dependent variables, it provides a breakdown of how each component of MIPS will contribute to the final score and how they'll affect the payment adjustments, and whether it will be negative or positive.
With the first MIPS performance year just around the corner and MACRA being one of the most significant changes in the healthcare community, it's crucial that providers are familiar with this new payment model. Innovaccer's MIPS calculator is designed to assist providers to analyze their practice as per the required MIPS attributes. 
How It Works
MIPS Calculator integrates exhaustive research of MACRA with convenient and easily-operable inputs, generating MIPS score for the performance year and respective payment adjustment. The calculation of MIPS score and payment adjustment is done after accounting for attributes like Number of Part B Providers, the Budget Neutrality Factor, Average exceptional performance bonus, average amount of Medicare Part B per provider, and other variable inputs for MIPS performance score.
Additionally, the tool is built out in a user-friendly point-and-click interface with tool tips and guides to instruct the users about MIPS rules and calculator. Laid out in a table-like manner, the calculator is easy to comprehend and gives a better understanding of how performance will be calculated in the coming years.
"MACRA is one of the most significant changes the healthcare industry has undergone in recent times, and only a few days are left for its implementation, which is why we have come up MIPS calculator to make providers acquainted with how their payments will be modified. The sooner providers are familiar with the new regulations, the better it is for everyone," said Abhinav Shashank, CEO, and Co-founder of Innovaccer in a statement.