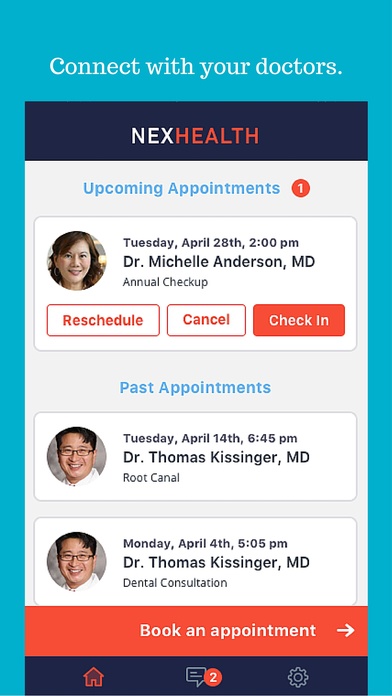 NexHealth, a New York based developer of an app-based patient communication and appointment booking platform, has raised $1.5 million in seed funding led by iSeed Ventures. The digital health startup plans to utilize the funding to invest in growing its network of doctors and patients as well as product offerings.
Founded in 2015 by Alamin Uddin, NexHeatlh's secure patient booking platform integrates with a physician practices' existing calendar to provide its patients access their office schedule to to schedule appointments, anywhere, anytime. Uddin founded the company while working as an administrator at a primary care facility in Brooklyn. Seeing quality of patient care and patient compliance struggle due to lack of patient access inspired Alamin to build NexHealth.
According to Uddin, the healthcare industry is struggling with balancing provider incentives to be more profitable while at the same time reducing healthcare costs. NexHealth's platform aims to address this challenge by giving patients access to their care and their physicians anytime and anywhere, while also helping providers reduce costs and increase earning.
By automating staff day to day tasks like wait-lists and recalls, as well as optimizing provider slots, NexHealth helps providers save time and increase revenue. This also ensures that patients have a great experience and access to their care at all times.
The company currently has established partnerships with major provider networks like National Dental and academic health centers like New York School of Medicine.
"Partnering with NexHealth, we aim to reduce our high no-show that's hurting us financially, better utilize physician slots, as well as give our patients better access to our physicians," said Dr. Jerry Balentine at New York School of Medicine in a statement.
Making the process of booking physician appointments and communication easier in a way that benefits providers and patients is a challenge that resonates heavily. This is shown in the rise of companies in both domestic and international markets providing their own approach to simplifying the process of patient communication and appointment booking.
"Since starting NexHealth in January 2015, we have focused on building the most intelligent and user friendly patient communication and app based appointment booking platform," said Alamin Uddin, co-founder and chief executive officer of NexHealth in a statement. "Today marks a major step forward for our company. Our company was founded to build the platform for people and their doctors, and we see ourselves achieving this vision with backers like iSeed Ventures in the next few years."