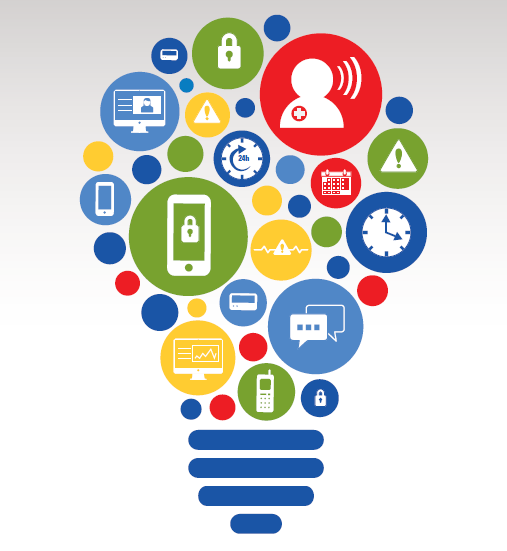 Data security and care team coordination are the two top considerations for CIOs in healthcare today, according to a recent Spok survey. The report administered by CHIME surveyed more than 100 CIOs, who responded to questions about their big-picture goals, the use-cases driving their mobile app selections, and which common workflows they are focused on improving.     
When asked which business goals CIOs are focused on for the next 18 months, an overwhelming majority (81 percent) cited strengthening data security. Increasing patient satisfaction (70 percent) and improving physician satisfaction (65 percent) ranked second and third, respectively. When asked which workflows are top of mind to improve with better tools, 67 percent noted "care team coordination for treatment planning
One popular intersection of these two primary goals, data security and care team coordination, is secure mobile communications. The report reveals that sixty eight percent of survey respondents said that implementing secure text messaging is an active project, and 53 percent have an enterprise mobility management, or EMM, solution to further enhance patient data security on mobile devices.     
CIOs also identified physician adoption as both the top measure of success and the top challenge with these technologies. "Healthcare IT leaders are looking to achieve a delicate balance between meeting regulatory requirements for security and physician expectations to provide impactful improvements with easy to use technologies," said Dr. Andrew Mellin, chief medical officer of Spok, Inc. "Adoption of new technology requires change management to be most effective. The organizations we've seen with the most successful secure text messaging rollouts first identify key clinical challenges and workflow frustrations for end users and then deploy the technology alongside process improvement and change management activities to demonstrate value to the provider, care team, and patient. For example, a well-designed messaging app for healthcare can integrate with hospital technologies such as the EHR and other ancillary systems to deliver critical results in a manner that allows the physician to address the result quickly and easily. There is an opportunity to improve physician adoption by highlighting these value-add distinctions that can save time and improve patient care."     
Other key findings of the survey include: 
Investment Decisions
– When making communications-related investment decisions for CIOs, the ability for new technologies to integrate with current systems (which implies sharing information) ranks third at 75 percent, behind meeting the needs of clinicians/organization (82 percent) and ease of use for end users (80 percent).
Workflows
– Sixty-seven percent of CHIME survey participants cited care team coordination when asked what specific types of workflows within their hospital or health system are top of mind to improve with better tools. The next three most cited relate to patient processing: patient discharge (48 percent), handoffs within the hospital (46 percent), and handoffs between facilities (40 percent).
Mobile App Selection Drivers 
– When asked specifically what technology use cases are driving their mobile application deployments, these executives cited secure messaging/communication capabilities as a top priority (84 percent), followed very closely by EHR access and integration (83 percent). It is unclear from this survey if this emphasis on secure messaging is being self‑identified by CIOs, or if it is being driven instead by demands from physicians (to align with the third business goal highlighted in the first question).
Integrations
– The most common integration reported by survey participants is with the EHR (73 percent). This might explain EHR integrations being fifth as an overall goal (44 percent in question one) if many IT leaders believe there has already been significant progress toward this goal.
– Secure text messaging, at 54 percent, is second on the list of communication system integrations. Other technologies were ranked as follows: emergency response (36 percent), patient monitoring (36 percent), critical test results (31 percent), bed management (31 percent), staff contact directory (30 percent), operator console (29 percent), and on-call scheduling (26 percent).
Secure Text Messaging
– When asked if rolling out a secure text messaging solution is among their current projects, 68 percent of surveyed tech leaders replied 'Yes'.
– physical infrastructure behind secure texting and other mobile technologies is a challenge for many organizations. In that study, both Wi-Fi and cellular coverage were cited as challenges to mobile device usage by 54 and 47 percent, respectively. 
Bring Your Own Device (BYOD)
– 41 percent have enterprise-wide BYOD programs allowing all employees and staff to participate, while 44 percent say only certain groups of employees or staff can participate. In the annual survey, 58 percent of responders said some form of BYOD is allowed while 18 percent said they do not know.
– BYOD is allowed for physicians 85 percent of the time, administrators 72 percent, IT staff 63 percent, and nursing staff 17 percent. This compares to 89, 75, 66 and 50 percent reported in the Mobility Strategies survey.
Nursing Staff
– When asked about the primary communication technology of their nursing staff, 43 percent said Wi-Fi phones, 14 percent voice badges, and 6 percent pagers. 
– Only 28 percent of CIOs reported that nurses use smartphones, 17 percent of which were hospital-issued and 11 percent were personal.
Enterprise Mobility Management (EMM)
– When asked how they would describe their EMM solution deployment,  sixteen percent of CIOs said their EMM solution is being piloted with select groups of employees, 43 percent reported that one is currently being deployed, 14 percent said that it is deployed enterprise-wide with little to modest adoption, and 27 percent reported that they are in a mature phase with the solution deployed across the enterprise and extensively adopted.
– Ninety‑one percent of CIOs said they are using EMM solutions for securing data on devices. Seventy percent use their EMM for application and content deployment, saving time for IT during new deployments, patches, and upgrades.
Future Predictions
– Patient-centered care and EHR integrations top the list at 29 and 21 percent, respectively when asked about predictions for what will be the most important topic three years from now.
For more information, download the full report here.