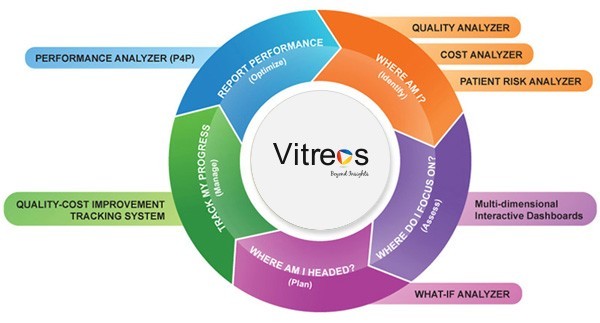 PrecisionBI, a provider of healthcare analytics, business intelligence and clinical and financial decision has announced a strategic relationship with VitreosHealth, a provider of predictive and prescriptive health insights for population health management.
As part of the partnership, PrecisionBI will leveraging VitreosHealth to bring customized care insights to its clients through interactive visualizations and quality metrics that will optimize performance across financial and clinical operations to help minimize the cost of at-risk patient.
 The PrecisionBI and VitreosHealth alliance will also employ the largest library of disease-specific risk models and require minimal involvement from technology teams. Using VitreosHealth's dynamic adaptive ETL framework minimizes disruption in day-to-day operations.
Key benefits of the relationship include:
–  valuable for PrecisionBI clients who are looking to combine their cost data and their clinical and non-clinical data to get a complete picture of patient risk stratification for financial and clinical outcomes
– allows PrecisionBI to address Fee-For-Service metrics, Capitated metrics, as well as Value-Based Care metrics for its users.
– PrecisionBI through this partnership is now able to identify at-risk patients and deliver prioritized clinical pathways for care management programs with the highest return on investment
– allows PrecisionBI to be the one stop solution across the board to benefit a variety of stake holders in the organization, including: Analytics teams, Care Management teams and ACO leadership teams
– provide the PrecisionBI user with actionable insights into their data to make a significant improvement on their outcomes while driving down costs
"Partnering with VitreosHealth will allow PrecisionBI clients already leveraging our deep clinical and financial analytics the ability to identify patients that are not only high risk now, but will be within the next 12-18 months.  This predictive capability, along with proactive Care Management 'next steps' provided by the integrated solution, will prove invaluable for enhanced cost control and improved patient health outcomes as our clients enter the new era of MACRA," said Jaime Ojeda, GM & EVP, PrecisionBI in a statement.