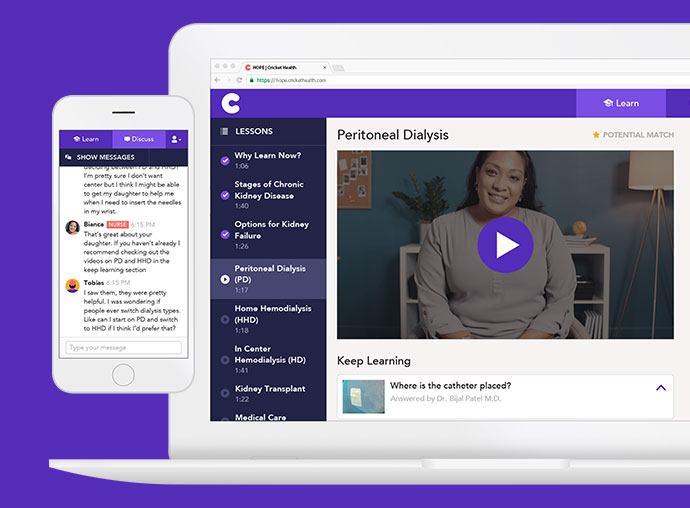 Cricket Health, a San Francisco, CA-based digital health startup has officially launched to provide technology-enabled products and services to modernize and transform how kidney care is delivered for people living with chronic kidney disease (CKD) and end stage renal disease. The company has raised $2.5 million in seed funding led by Cricket Health has raised $2.5 million in seed funding led by First Round Capital, BoxGroup, Seven Peaks Ventures, Nexus Venture Partners, and NFX Guild.
Founded in 2014 by former LinkedIn executive Arvind Rajan and former General Partner at Aberdare Venture Vince Kim, Cricket Health's goal is to significantly improve patient's lives and reduce the clinical, psychosocial and economic burdens associated with chronic kidney disease.
Cricket Health's flagship education platform Health Options Patient Education (HOPE), helps CKD patients understand their treatment options and plan ahead to ensure an orderly transition for those who progress to ESRD from a network of healthcare professionals, peers and mentors. The program empowers patients to choose end-stage renal disease (ESRD) treatment options that fit their lifestyle and reflect their personal values.
In addition to HOPE, Cricket Health is developing machine-learning algorithms to identify persons with CKD within hospitals' electronic health record data, as well as additional knowledge-rich decision-support systems to improve CKD management throughout the patient journey.
"The Centers for Medicare and Medicaid Services is encouraging greater use of home dialysis modalities, and upstream intervention strategies, like HOPE, could save the health system $63 billion annually," said co-founder Vince Kim, a former General Partner at Aberdare Ventures, a leading health IT venture capital firm that made several early-stage investments in digital health and medical technology companies, including ElationHealth, Jiff, Omada Health, Nevro, Ablation Frontiers, and Rock Health. "By encouraging patients to consider home dialysis options, we can help reduce hospital utilizations and readmissions, which are central to the healthcare industry's shift toward value-based reimbursement."
The founders also recently unveiled the team heading up its Board of Advisors, which includes prominent clinicians, specialists and researchers from across the country.
Cricket Health's Medical Advisory Board includes Joachim Ix, MD, Chief of Nephrology, University of California, San Diego (UCSD); Joel Glickman, MD, professor of clinical medicine, University of Pennsylvania; Michael Shlipak, MD, Chief of Medicine, San Francisco VA, UCSF; Danuta Trzebinska, MD, Director CKD Clinic, UCSD; Ann Robar, BSN, RN, CNN, former Vice President of Clinical Operations, Satellite Healthcare; Glenn Chertow, MD, Chief of Nephrology, Stanford; Bijal Patel, MD, Director, Home Programs, Balboa Nephrology Medical Group; and Suzanne Watnick, MD, professor of medicine at Oregon Health & Science University and acting chief of nephrology at the VA Portland Health Care Center.