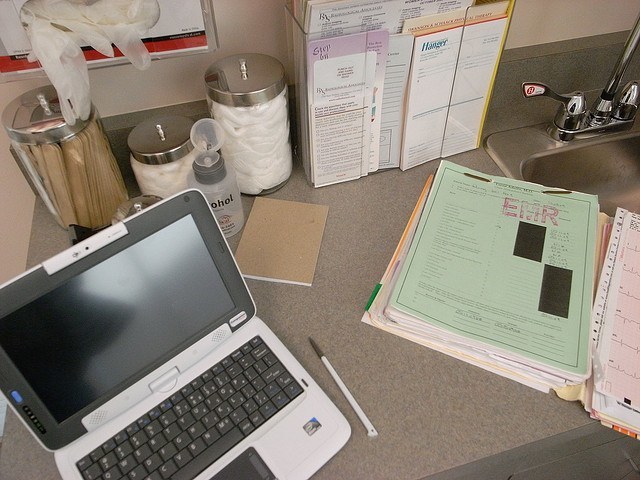 One of the standards for meaningful use of electronic health data is the interoperability of that data; in other words, can the data be accessed and used by providers in any location, as long as they have the proper clearance. This interoperability was the cornerstone of the push for electronic health records, yet it's proven to be more challenging than most expected. While hospitals and healthcare systems scramble to find solutions, one has risen to the top: Middleware, a type of software that connects disparate applications residing on different servers, usually via some sort of messaging protocol. We talked with Kathleen Simmons, a medical software developer, about middleware and its potential to solve the interoperability challenge.
Why does interoperability remain a challenge?
Practical interoperability remains elusive for a variety of good reasons, which the Government Accountability Office identified in a recent report: differences in health data standards between various entities; variation among states in terms of privacy rules; the difficulty inherent in accurately matching all of the right records to the right patient; cost; and the need for consistent governance standards as well as trust among all of the entities involved.
Data blocking by some vendors continues to be an issue as well. Providers are adding information to EHRs, but when the software prevents other providers from actually accessing the data in a timely manner and using it in any meaningful way, it undermines the entire purpose of an HIE. While data blocking isn't something that all vendors are guilty of — and there is legislation underway to prevent the practice — it's undoubtedly created problems and frustrations for healthcare professionals who wish to take advantage of EHRs' potential.
Further compounding the problem is the fact that EHR vendors have been so focused on meeting CMS' standards of meaningful use that interoperability has sort of fallen by the wayside. The result, then, is that interoperability is a great idea that has a lot of support, but isn't meeting expectations or its full potential because vendors are busy working on other compliance-oriented, instead of innovation-driven, requirements.
Why are we so concerned with interoperability?
One of the major reasons that CMS was so intent on pushing meaningful use of EHRs is the idea that interoperability — and the ability to share patient data from anywhere, to anywhere in a seamless manner — could improve patient care, reduce costs, reduce the likelihood of a medical error, and create a more efficient healthcare delivery system.
Those benefits are certainly achievable, but chasing interoperability has become even more of a priority, since one of the provisions of the Medicare Access and CHIP Reauthorization Act (MACRA) passed last year is that healthcare systems and providers must achieve widespread interoperability by the end of 2018. In fact, under the Defense Authorization Act Congress passed requirements for DOD and VA interoperability on the same timeline, and is even withholding some of the program funds until agencies can provide a plan for interoperability. So this has become a major priority for many medical software companies.  
Why do you think that middleware might be a solution to the interoperability problem?  
As developers, we use the term middleware to describe software that brings together complex programs that already exist, but are often too complex to link together otherwise. Typically, middleware is used to connect existing software, like EHRs, with enterprise applications or other web services. It serves as a means of communication between the different EHR systems, making it possible for multiple systems to connect without building a new framework or requiring any provider to invest in a different, compatible system.
At the moment, middleware is showing the most potential as an interoperability solution. Simply put, when patients are at risk, we need to give providers the best possible life-saving solutions, and currently that isn't happening. For example, some have touted the Fast Healthcare Interoperability Resources (FHIR) as a potential solution, but FHIR is only capable of connecting two facilities, and requires the development of two separate interfaces and specified endpoints to do so.
So EHR vendors are looking to other industries, such as retail and banking, to see what solutions they have used to solve the interoperability problem, and by and large, middleware is showing itself to be the answer. Using a server-based middleware framework allows for the transparent and secure access of patient data directly from multiple databases, regardless of where they are located, and also creates a scalable platform for additional applications for the efficient sharing of data.
In short, with a middleware solution that allows different EHR programs to communicate with each other securely, transparently, and with greater accountability, it's quite possible for healthcare providers to access data from any database, wherever they happen to be located, whenever they need it.
Are there any other advantages to middleware?
Based on our research, there are actually a number of significant advantages to middleware. Employing middleware solutions allows application developers to focus on more functional healthcare solutions, since they aren't as concerned with dealing with EHR infrastructure issues. Middleware ensures the usefulness of EHR systems, while eliminating some of the data duplication that plagues the current digital landscape. Since middleware is a proven technology that's been used for some time in other industries to great success, so there is no reason not to consider using it in healthcare.
What about cost?
It's important to note that not only does middleware help improve patient outcomes, but it also helps save money, especially when it comes to IT. Rather than investing in new infrastructure or rebuilding existing infrastructure, middleware allows hospitals to use what they have, reducing or entirely eliminating wasteful spending.  In fact, middleware actually extends the useful life of existing electronic systems, protecting investments in the long term.
That being said, there are costs associated with using some middleware products, primarily the licensing and management of the software.  There are open source and mixed environment product options, but even so, typically, middleware costs are about 30 to 40 percent of the overall IT project cost, when you consider the cost of the software and the cost of managing the integration. However, when you consider that for the average healthcare facility, implementing an EHR system can run into the tens of millions — or even more — most facilities aren't in a big hurry to "rip and replace" the systems they invested in not too long ago. Therefore, investing a smaller portion of that expense into a middleware solution is a far more cost effective option.
Are there other drawbacks?
One that many developers point out is that using middleware prevents a hospital from developing proprietary solutions — and tailoring them for performance. And of course, there is a layer of management required, which can create the need for additional resources. That being said, again, given the potential for middleware to save money and help speed up the process of achieving interoperability before the 2018 deadline, those drawbacks are likely to be less important for now.
As we race toward the 2018 deadline for interoperability, expect to see a lot more about middleware and its potential to streamline digital records management. If you are looking for a solution for your company, consider looking at middleware solutions to save time and money while still maintaining a secure and efficient environment.