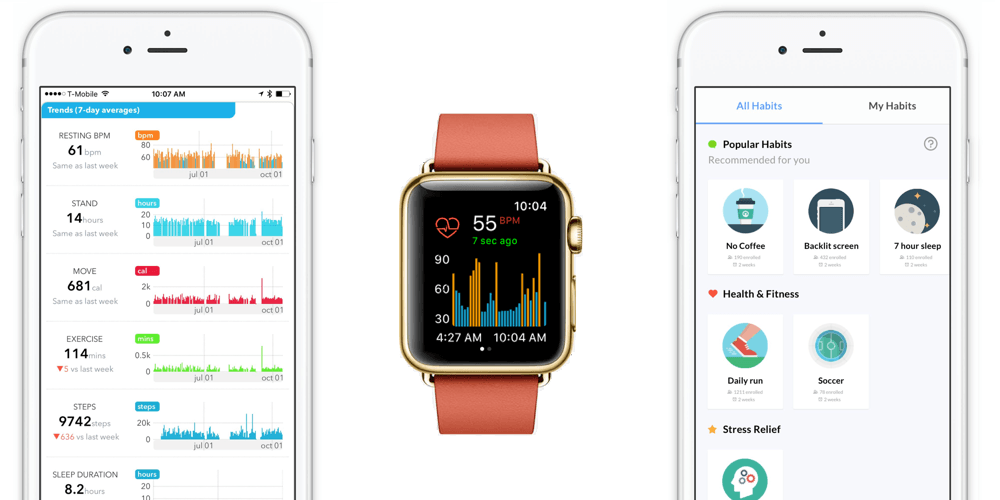 Digital health startup Cardiogram has raised $2 million in seed funding led by Andreessen Horowitz's new Bio Fund with participation from Halle Tecco (Rock Health Co-founder ), Jeff Hammerbacher (Assistant Professor at the Mount Sinai School of Medicine), Kevin Scott (SVP Engineering of LinkedIn) and more. Cardiogram detects abnormal heart rhythms with the Apple Watch and displays those results into an app store-like interface, where consumers can pick a habit, "check off" their daily progress, and most importantly, measure whether it works for them.
Habits fall into three categories: Fitness, Sleep, and Stress. Each category offers a handful of Habits users can try for 14 days. Additionally, users can invite friends to join, and then compare how that habit is driving each of their metrics, like resting heart rate.
The startup is currently working with UCSF Cardiology to identify abnormal heart rhythms as part of the mRhythm Study. Since launching the study in March 2016, Cardiogram has collected more than 10 billion sensor measurements from more than 100,000 people with Apple Watches. That volume of data has achieved a c-statistic (an accuracy measure[4]) of above 90% in detecting atrial fibrillation, the most common abnormal heart rhythm.