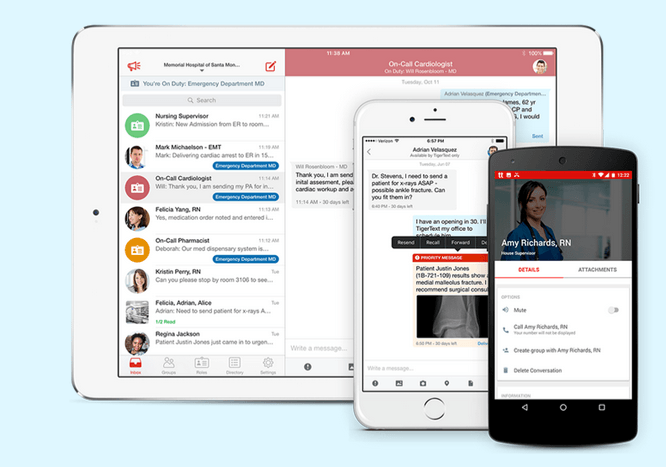 Clinical communication provider TigerText, today unveiled TigerFlow, a workflow-centric clinical communication solution that brings together an enterprise-wide platform, integration with clinical systems of record, an engaging user experience, and intelligent workflow mapping for better care team collaboration.
The Next Evolution In Healthcare Communications
TigerFlow combines its mobile communications platform with data integration capabilities, end-to-end workflow consultation services provided by TigerText, and on-demand data analytics to help healthcare organizations accelerate adoption, raise productivity, reduce hospital costs, and improve patient outcomes. TigerFlow centralizes disparate patient information into a single, easy-to-use, mobile-friendly ecosystem that aggregates information that would otherwise only be accessible through disparate modalities or workstations.
A critical factor in driving next-level communications efficiencies is the ability to connect 3rd party systems and applications. Through a series of strategic partnerships and years of integrations expertise, TigerText offers a wide range of integrations all configured to deliver real-time information in an actionable format. Integrating with hospital systems improves clinical communication engagement and extracts additional value from high-cost solutions that still present barriers to real-time, actionable information.
Popular integrations include:
– Clinical information and alerts from the EHR 
– Nurse call systems
– Scheduling software
– Answering service
– Paging service
– Authentication (SAML)
Tigerflow Features
To ensure efficient clinical collaboration and maximum throughput, TigerFlow introduces new features that help physicians, nurses, and support teams quickly identify specialists, and communicate more efficiently, reducing the number of steps needed for frequently performed tasks.
Roles – The new patented "Roles" module in TigerFlow makes it easier for staff to look-up and message on-call specialists without referencing a computer, whiteboard, or printed schedule. This speeds up communication cycles and eliminates errant calls to off-duty employees. Roles also integrates with scheduling systems, providing calendar views, and makes it easier to coordinate shift assignments and transitions of care. Staff can also use Roles to build custom care team groups around a patient or room. This facilitates more informed patient handoffs during shift changes since each new person entering into the role has access to discussions hosted by the previous person "on duty."
Click-to-Call – With embedded Click-to-Call, users can now initiate phone calls to colleagues with a single tap from a message thread or user profile, saving nurses, physicians and others valuable time when trying to reach other care team members, be they specialists, primary care providers, nurse supervisors, pharmacists, and others. It also shields phone numbers for privacy, respecting a common preference among physicians.
Measuring Adoption, Maximizing ROI
High user adoption is a critical component in helping customers achieve game-changing ROI. TigerFlow introduces the most advanced adoption tracking and data analytics platform among clinical communication solutions. By aggregating data and establishing benchmarks among the industry's top performing organizations, TigerText's success managers can develop a comparative scorecard that gives customers a way to identify opportunities for improvement by role and department to help maximize adoption, user engagement, and message volume.
Through these combined forces of product integrations, support services, and powerful analytics, TigerFlow helps organizations deliver higher quality patient care, realize measurable cost savings, and improve the lives of hospital staff. TigerText has already saved its customers tens of millions of dollars in costs from optimized workflows as well improved revenue cycles and most importantly improved patient outcomes.