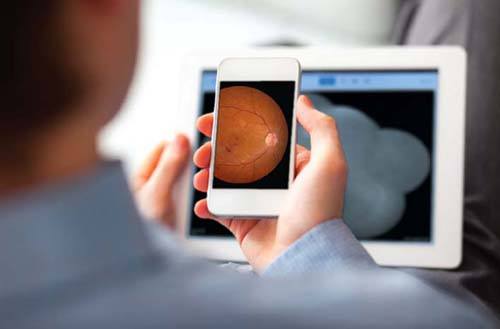 CoxHealth, a Missouri-based health system and payer announced that it has improved its HEDIS quality measures using Intelligent Retinal Imaging Systems (IRIS) diabetic retinopathy telemedicine solution, according to a recent case study. For the case study, Cox Health administered the diabetic retinopathy exam (DRE) to 1,865 patients over an initial 100-day period, diagnosing 305 (16%) with diabetic retinopathy who otherwise would have gone undiagnosed.
Case Study Background
With approximately 24,000 diabetic patients system-wide, CoxHealth's compliance rate for annual diabetic retinopathy eye (DRE) screenings, a key care gap for CoxHealth, had been at a low of 32 percent. The IRIS teleretinal examination program for diabetic retinopathy was installed at 14 specially selected CoxHealth locations, with two systems at one of the locations, Compliance rates are steadily increasing across multiple payer contracts with one key contract near 80%.
To address this care gap, CoxHealth required a solution that was easy for its physicians and clinic teams to use. Workflows needed to be standardized with minimal impact to providers, and the solution needed to be as automated as possible. For these reasons, a programmatic approach, supported by a bidirectional Cerner EHR interface, was the only way to drive desired results.
Key Results
Of the 305 patients diagnosed with diabetic retinopathy, 283 were found to have non-proliferative diabetic retinopathy and 22 were given proliferative, vision-threatening diagnoses. These results enable CoxHealth to achieve Healthcare Effectiveness Data and Information Set (HEDIS) quality outcomes that provide the best level of patient care and increased revenue from quality incentives. HEDIS is a tool used by more than 90 percent of America's health plans to evaluate performance on process and outcomes in both clinical care and members' care experience. Elevating HEDIS scores reflects a healthier population and results in reduced healthcare costs and increased health plan rankings and revenue.
In addition to improving HEDIS outcomes, CoxHealth is improving its Hierarchical Condition Categories/Risk Adjustment Factor (HCC/RAF) scores in risk-based contracts, which recognizes increased payments from its payers to care for their members. The 150 diabetic retinopathy diagnoses will directly elevate HCC RAF scores in patients with risk-based payer contracts.
"While improved HEDIS and RAF scores are very important, the true measure of success is ensuring patients with diabetes are properly diagnosed," said Jason Crawford, CEO of IRIS.
Keys to success was Discrete data integration with their EHR, allowing Primary Care Providers to see end organ damage and create more aggressive care plans. By managing the disease in Primary Care, expensive therapies may be minimized or avoided altogether. This provides a reduced cost-of-care for this patient population. This not only increases data accuracy and timeliness of results and reduces the burden associated with HEDIS reporting, but aids in efficiency and enables providers to focus on patient care.
"Without the integration, you would almost be defeating the purpose of the DRE, which makes it easier to conduct, to complete, and to have a physician review and act on the results, said Dr. C. Mark Costley, Medical Director, Regional Services, CoxHealth.
The implementation was completed in 10 weeks, which was a very aggressive timeline for any project at CoxHealth. "We felt we needed to place a sense of urgency on this project to ensure it got done," Dr. Costley said. He noted that such timing was necessary to meet major payer schedules for increased RAF (Risk Adjustment Factor) scores. "We needed to get at least 5 or 6 months of data utilization to try and make an impact on RAF scores since that is probably one of our weakest areas: HEDIS measures and payer metrics."