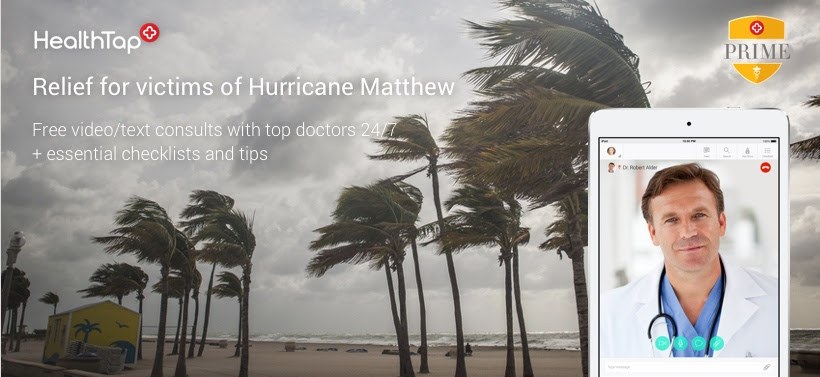 HealthTap, the world's first Global Health Practice providing 24/7 immediate access to doctors via video, text or voice has extended its free assistance to the victims of Hurricane Matthew from the United States to Haiti and other countries impacted by the storm. Natural disasters, including severe hurricanes like Matthew, often prevent people from accessing care, and healthcare resources are often overstretched or otherwise unavailable during such events.
In response to Hurricane Matthew, HealthTap mobilized thousands of doctors to be available for immediate, free virtual consults with victims, to answer health questions from those in need, and to create special storm-specific checklists and tips.
Anyone can now quickly find vital disaster-related health information, like how to avoid water-borne illnesses after a storm, or how to reduce exposure to airborne viruses in group shelters. Additionally, through October 15th, anyone affected by the storm across the Caribbean and U.S. can sign up to consult with a doctor on HealthTap at no cost as part of a free 7-day subscription to HealthTap Prime.
"Thanks to the inspiring and immediate response of the thousands of top doctors on HealthTap, a whole new set of relevant health tips and checklists are now available to help people learn what to do when facing health issues related to flooding, severe storms, and the aftermath they leave," said Dr. Peter Schmidt, General Manager of the HealthTap Medical Expert Network. "Doctors on HealthTap in over 100 specialties have once again shared their valuable knowledge to help millions in need everywhere. The devastating impacts of a disaster like Hurricane Matthew continue long after the storm passes, and we are humbled by our generous network of leading doctors who guide and consult people impacted by the storm."
Those affected by the hurricane can visit htap.it/2e2GcfV (or www.healthtap.com/payment?promo_code=hurricanematthew) for a free week of access to HealthTap Prime, with 24/7 access to primary doctors on call by video/voice/text chat and unlimited access to HealthTap's library and health engagement tools. Users from Haiti, the Caribbean Islands, Florida, Georgia, South Carolina, and North Carolina who sign up using this link by October 15, 2016 will receive a free subscription that will automatically terminate after one week.