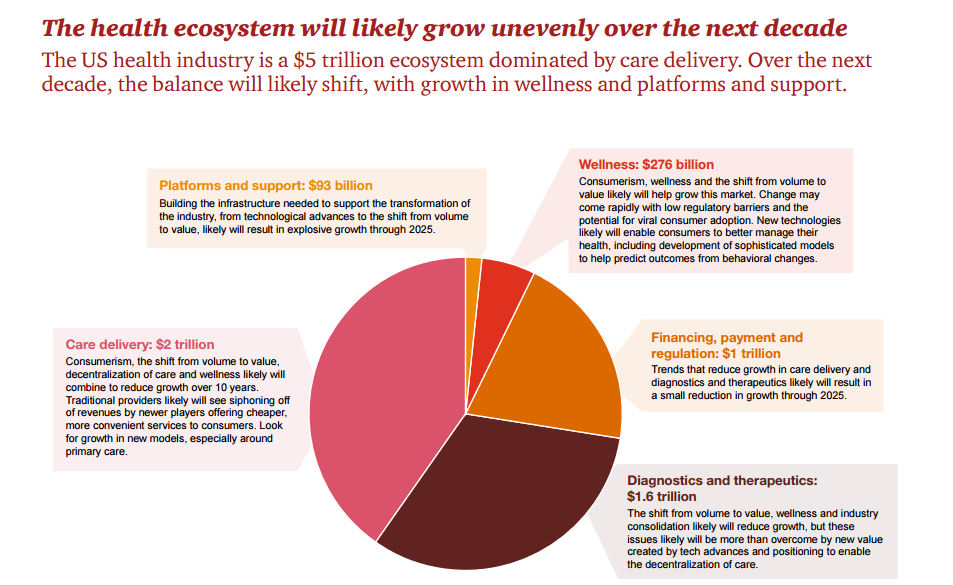 The US health industry is undergoing seismic change and consumers are playing a critical role in this transformation, according to PwC. The new report, "Surviving seismic change: Winning a piece of the $5 trillion US health ecosystem," published by PwC's Health Research Institute (HRI) reveals how American consumers are gradually finding themselves in the middle of this vast new health economy.
HRI's report lays out a vision for the US New Health Economy over the next 10 years, with likely gains and losses for the industry, and a look at implications for players old and new. The institute's findings are based on data analysis, a retrospective examination of 10 years of consumer survey data and interviews with industry executives. HRI identified five forces that are reshaping the $5 trillion new health economy:
1.   Shift from volume to value ($1.6T): The shift from volume to value, wellness and industry consolidation likely will reduce growth, but these issues likely will be more than overcome by new value created by tech advances and positioning to enable the decentralization of care.
2.    Rise of the consumer ($2T): Consumerism, the shift from volume to value, decentralization of care and wellness likely will combine to reduce growth over 10 years. Traditional providers likely will see siphoning off of revenues by newer players offering cheaper, more convenient services to consumers. Look for growth in new models, especially around primary care.
Companies building systems that can handle and analyze these consumer data, and protect them, while offering consumers ways to shop for care and make better health decisions, likely will find fertile markets
3.    Technological advances and digitalization platforms ($93B): Building the infrastructure needed to support the transformation of the industry, from technological advances to the shift from volume to value, likely will result in explosive growth through 2025.
HRI projects the cumulative effect of four major technological advances— machine learning and artificial intelligence, 3D printing, the rise of —omics and the use of digital health data—likely will grow the diagnostics and therapeutics, platforms and support, and wellness markets in the long term.
4.    Decentralization ($1T): The decentralization of care will help encourage consumers to obtain care anytime, anywhere, thanks to the spread of virtual care and remote patient monitoring, the embrace of alternate venues for care, the increased use of clinician extenders and the seamless sharing of data among stakeholders. This shift remains slow-moving, though evidence of it already can be found throughout the ecosystem.
5.   Wellness ($276B): a renewed focus on wellness and health management has the power to siphon revenues out of the ecosystem by reducing utilization of treatments and services intended for sicker individuals. Down the road, new diagnostics, sophisticated analytics and modeling should help consumers better manage their health before, during and after illness, reducing their need for more costly care and treatment. Organizations will learn new ways to determine how much consumers are willing to pay for these health preserving services, and build new business models around them.
HRI projects that the forces that will likely grow revenues in the system are, in general, slower-moving while the forces likely to dampen growth are moving more quickly.
For more details on the PwC report, visit https://www.pwc.com/us/en/health-industries/health-research-institute/publications/health-industry-changes.html