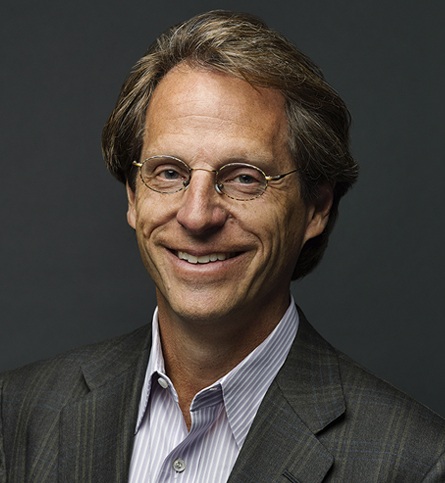 Editor's Note: Michael Greeley is the General Partner and Co-founder at Flare Capital Partners an early stage healthcare technology venture capital firm. Some of his existing and prior board seats include Explorys, HealthVerity, Iora Health, Predilytics, Taris, T2 Biosystems and Welltok. In addition Michael serves on several industry association boards including the Industry Advisory Board for the Cleveland Clinic and Boston Children's Hospital, as well as the Executive Committee of the National Venture Capital Association. Michael earned a B.A. with honors in chemistry from Williams College and an M.B.A. from Harvard Business School.
Given the amount of capital that washed into the healthcare technology sector over the last 30 months or so (as much as $16.9 billion globally according to StartUp Health since 2014), the next year may be somewhat unsettled as many of those startups come back to market to raise additional funds. Typically a venture financing round is meant to provide 18 – 24 months of runway, at the end of which a company will have presumably knocked down a number of critical product, team and/or commercial milestones. Anything materially short of that and investors can be quite unforgiving, especially if market conditions have turned more hostile.
Clearly the narrative at board meetings has changed from one of unbridled enthusiasm for growth and scale, almost at all costs; to a more measured cautious focus on what will it really take to get to cash flow breakeven. Or to prove the unit economics. Or what is the real impact on clinical outcomes or cost of care models?
Customers, particularly in the employer space, are much more demanding when it comes to near-term ROI on healthcare technology investments. The fact that there is dramatic consolidation in the health insurance industry, much of which is now hung up in Department of Justice litigation, has created some confusion and materially extended sales cycles.
Two contextual developments are also not helpful: questions about the efficacy of accountable care organizations ("ACO's") and the lack of robust investor liquidity. There are more than 400 ACO's serving 8 million of the more than 57 million Medicare beneficiaries. The Dartmouth Hitchcock health system, one of the pioneering ACO's, just dropped out of the federal program as cost-saving targets were not met. Public investor sentiment is also fickle.
According to VentureSource, there has been 166 IPO's in the healthcare sector between 2013 – 2015, but only 16 in 1H16 (and for half of those IPO's, existing investors had to buy more than 50% of the offering).
Implications of this are many and not all of them good. Clearly there will be rotation of investor interest among the sub sectors of healthcare technologies. According to StartUp Health, the top three most active categories in 1H16 were Patient/Consumer Experience, Wellness and Personalized Health, accounting for over $2.4 billion of investment in 95 companies. Those categories consistently have ranked high over the last few years and now many of those companies will have to claim the successful completion of important milestones. Absent that, one might expect to see these categories attract less capital as investors "wait and see."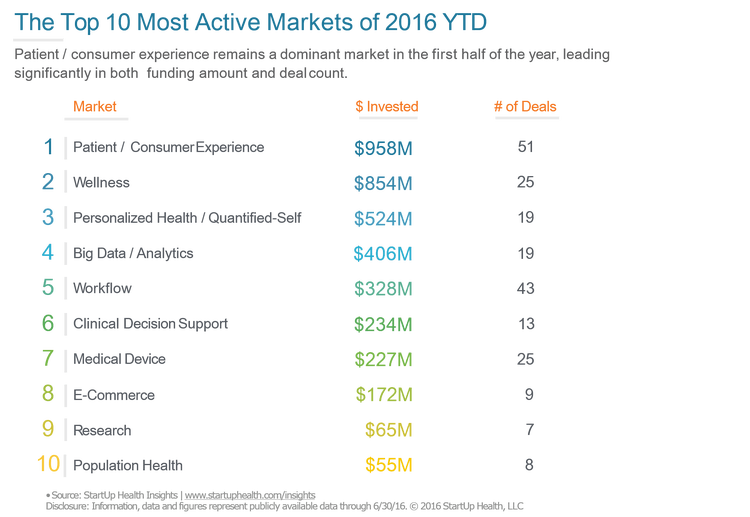 Why the focus on those sectors? Analysts (and the executive team of one of our portfolio companies!) often estimate that the determinant of one's health status is based on four elements: clinical care (10%), genetics (20%), environmental (20%) and then lifestyle and behavioral traits (50%). So arguably the largest contributors to one's health are the non-clinical components – and have been wholly unmanaged until recently.
Thus, the great seduction for many entrepreneurs to utilize and/or develop tools from other industries and apply them to the business of healthcare. And for many, it appeared that the barriers to entry were quite low ("I solved customer acquisition issues for American Express/Amazon/Google, so I can certainly do that in healthcare – how hard can it be?") The great frontier in healthcare is to successfully match healthcare consumers (members and employees) with appropriate healthcare resources.
The problem is that this is a non-trivial challenge, with difficult consumer engagement dynamics and elusive ROI (or at least not immediate ROI). What appears to resonate with customers are product features that better inform guidelines and evidence-based protocols, tools and incentives that meaningfully impact behavior, and platforms that influence consumer spending. These look like complex B2B products and less like B2C opportunities.
Insights may be gleaned from another industry that experienced dramatic investor interest: adtech. In 2011, $2.7 billion was invested in the adtech sector, which led to an explosion in the number of startups, often tripping over themselves with largely undifferentiated offerings. Since 2012, the adtech sector has attracted approximately $1.0 billion annually, a fairly dramatic fall-off. A great many of those companies even managed to get public, leaving us today with a number of poorly valued, thinly traded public companies and many disappointed venture capitalists.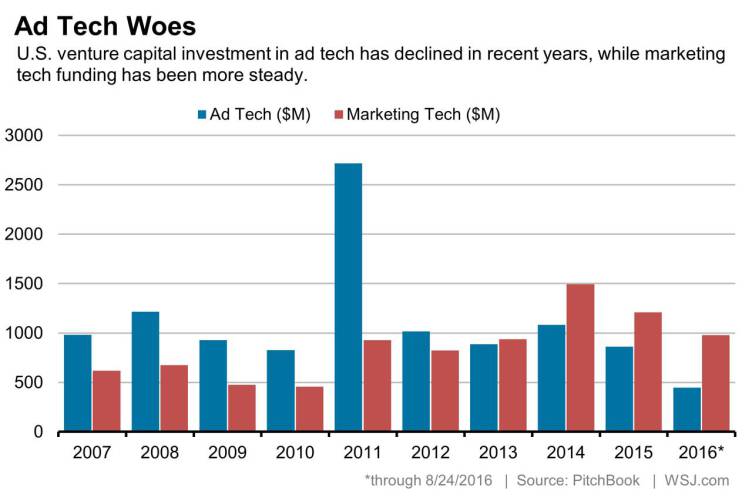 Interestingly, in the adtech sector entrepreneurs recalibrated their business models from volume-based media models to SaaS models (even rebranding their companies to be "marketing tech" platforms). Arguably, in healthcare technology a similar migration may be underway as companies move away from PMPM-based pricing models (volume) to software subscription models focused on customer ROI.
Expect to see much greater scrutiny by venture investors on issues like time to break-even, gross margins, burn rates (and burn per FTE), and important clinical outcomes. As an ode to the opening weekend in the NFL, expect to see a move away from a "west coast offense" strategy (emphasis on hyper growth, number of members, cost of acquisition, life time value calculations) to a more staid "east coast" grind it out style of company building where the focus will be on cash flow break-even and clinical relevance.
This post will also be published by Flare Capital Partners General Partner Michael Greeley on his personal blog at On the Flying Bridge. We are featuring Greeley's insights on HIT Consultant as part of an ongoing series of guest posts.
Opinions expressed by HIT Consultant Contributors are their own.