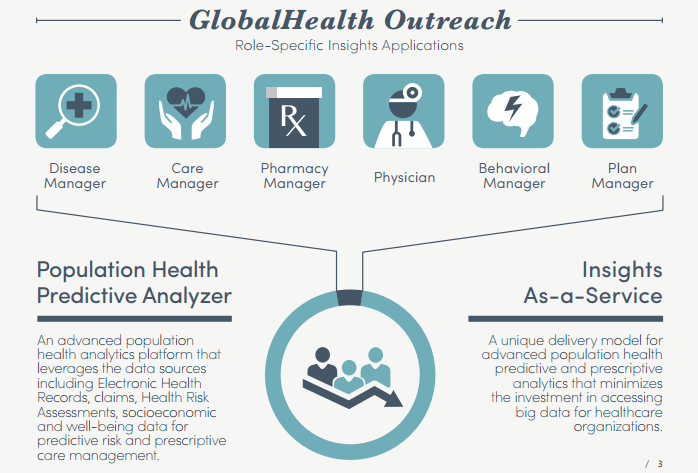 Oklahoma-based HMO, GlobalHealth, recently published a case study analyzing the results of their proactive outreach program. The program, built on big data with predictive analytics platform ViterosHealth, finds members whose health was most likely to change for the worse and implements changes to prevent catastrophic health events. Since implementation, GlobalHealth has realized an 18 percent reduction in emergency room encounters and emergent hospital admissions, a 22 percent reduction in readmissions and a 16 percent per-member, per-month reduction in medical costs, representing $10 million in annual savings. 
Since 2014, GlobalHealth has utilized predictive and prescriptive analytics as the basis for a proactive outreach program. The outreach program was established to find those members whose health was most likely to change for the worse in the next 12 months and prevent catastrophic health events. Today, GlobalHealth can successfully predict nearly 70 percent of its hospital admissions. The successes of the program don't stop there
Over time, as GlobalHealth expands its proactive outreach efforts, VitreosHealth is able to ensure that its solution meets GlobalHealth's needs. VitreosHealth offers this through an Insights-as-a-Service (IaaS) delivery model for population risk models for predictive and prescriptive health insights that provide a complete view into the healthcare continuum. Each "insights-view" achieves a patient-centric focus from every stakeholder's perspective within the healthcare organization that will contribute to quality health outcomes and improve financial performance.
The case study highlights the details of GlobalHealth's initial steps, growth of their outreach efforts, and the results achieved. It reveals experiences of some of the members through these programs and how GlobalHealth has expanded them over time.
Using VitreosHealth's predictive analytics as IaaS, GlobalHealth is able to proactively reduce patient populations' health complications by anticipating their actions, rather than reacting to them. VitreosHealth's solution integrates electronic health records, as well as socio-economic and claims data to generate a specific risk analysis that aids care management strategies.