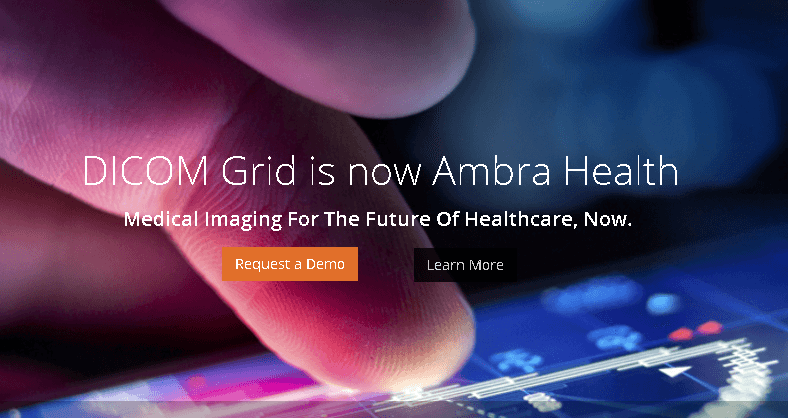 DICOM Grid, makers of the leading cloud-based, medical image management suite has rebranded as Ambra Health and has raised an additional $6 million in funding led by Canaan Partners. The latest round of funding brings to the company's total funding to date to $39 million. Ambra plans to utilize the funding to accelerate its sales, marketing efforts and product development. 
"Medical imaging is undergoing a transformation well beyond its beginnings in DICOM-based x-rays, CT, MRI and the like," said Morris Panner, CEO of Ambra Health. "Non-DICOM imaging and other large dataset of medical information are emerging at the same time that healthcare networks are expanding at a rapid pace, making what happens to a patient outside the hospital as important as what happens inside the hospital. Both these drivers call for innovation in medical data and image management and play a key part in our product vision, which is why we felt the time was right to change our name from DICOM Grid to Ambra Health as we help usher in your medical imaging cloud for the future of healthcare."
To date, DICOM Grid has processed over 2 billion diagnostic images, more than 100,000 every month, and is used by big names like Mayo Clinic, Barrow Neurological Institute and Rush University Medical Center. Over 750 healthcare providers share images using the Ambra Health network today, resulting in 750,000+ user logins per month from across 50+ countries worldwide. 
 It also added marquee healthcare providers to its customer-base such as Stanford Children's Health, Weill Cornell, Lahey Hospital & Medical Center,Jefferson Radiology, New England Baptist Hospital, and CareWell Urgent Care.
Ambra launches Think RADical
To help guide healthcare leaders through their medical image management strategy and make sense of the top trends in digital health technology, Ambra launches Think RADical, an advisory series of online and in-person events focused on driving innovation in medical imaging. The first Think RADical event will take place on September 29, 2016 in New York City at the Four Seasons Hotel, beginning at 1:30pm and ending at 6:30pm with a networking reception.
The speaker lineup will feature physician leaders from New York Presbyterian, Weill Cornell, Mount Sinai Health System, University of Maryland School of Medicine, the Radiology Society of North America (RSNA), the Advisory Board Company, as well as the healthcare practice of venture firm, Canaan Partners. Core topics to be covered include perspectives on the future of radiology as it breaks out of the "dark room", commercializing innovation in healthcare, and interoperability across health networks.