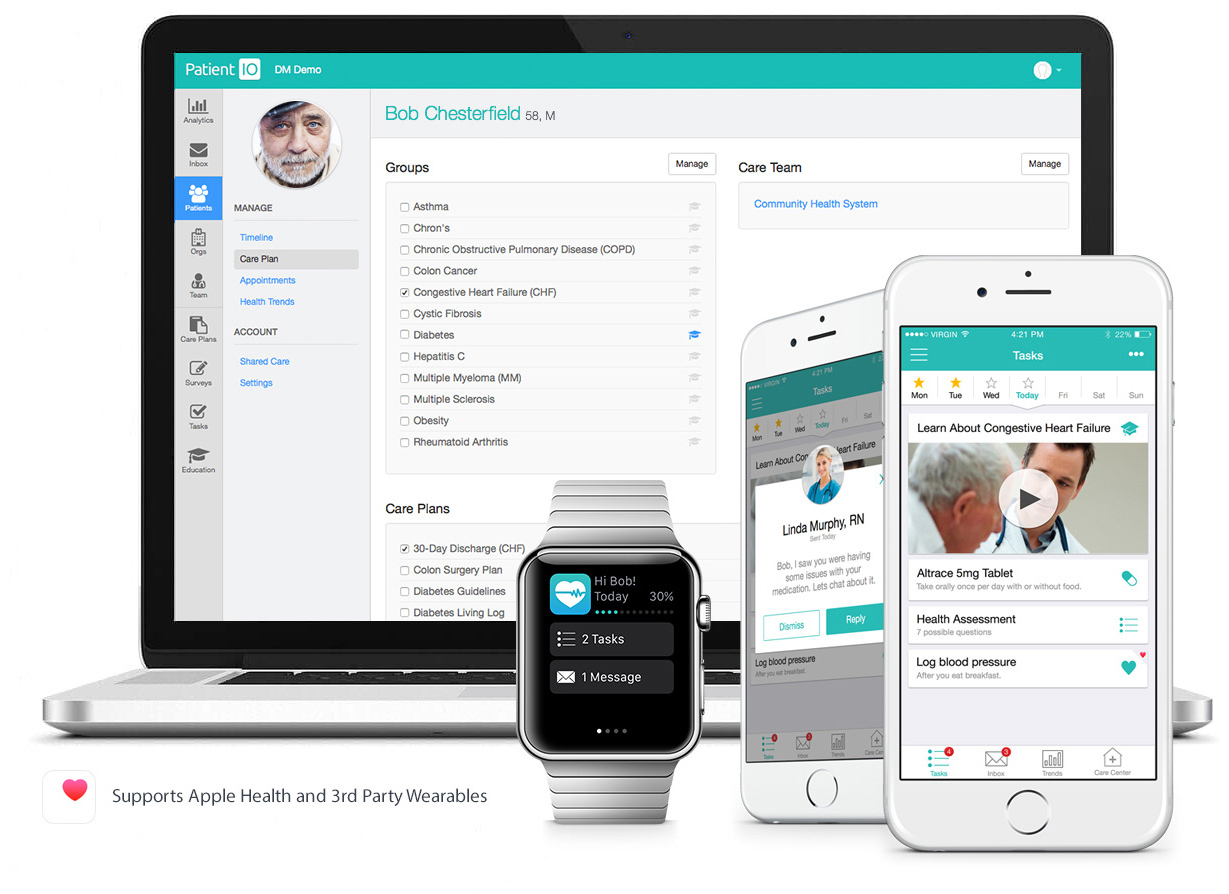 athenahealth has acquired Austin, TX-based Patient IO, a mobile care coordination platform that helps health systems transition into value-based care by better connecting them with patients between visits. Financial terms of the acquisition were not disclosed. 
Founded in 2013, Patient IO's mobile and web-based app helps health professionals create fully-customizable care plans that can be seamlessly delivered to patients outside the clinic. Patients receive treatment-specific tasks, reminders and educational content directly on their smartphones, helping health professionals manage patient health behaviors between doctor visits.
Patient IO's web dashboard lets health professionals track their entire population from their desktop. User-configurable alerts are sent if patients stray too far from their care plan, helping providers focus on their highest risk patients. And unlike other care plan solutions, Patient IO offers a full set of API's to make integration with existing care management software seamless.
To date, over 30 clinical sites currently depend on Patient IO to coordinate care for their patients. Patient IO will continue to service its full roster of clients and sell into non-athenahealth entities under its current name.
"Care coordination and patient self-management is the next big ground on which healthcare will compete," said 
Jon Porter
, Senior Vice President of Emerging Services, athenahealth in a statement. "By adding Patient IO to our portfolio and delivering their solution as a native component of athenahealth's population health services, we've been able to strengthen our ability to partner with providers as they enter into and become masters of value-based care delivery. Patient IO accelerates our movement towards an exciting strategic milestone: becoming a trusted resource and partner to the patient."
Integration Plans
As part of the acquisition plans, Patient IO will form the basis for athenahealth's patient-facing mobile application, athenaWell. This integrated functionality is already live in market with select clients today, and will be made available to new athenahealth 
Population Health
® clients as a native component of the service beginning this fall.
athenahealth initially made an investment in Patient IO in 
October 2015
 via the 'More Disruption Please' (MDP) Accelerator program that high-potential start-ups with direct access to athenahealth's resources, expertise, and network of over 80,000 healthcare providers. Patient IO is athenahealth's second acquisition of an MDP Accelerator portfolio company, following athenahealth's acquisition of 
Arsenal Health
 in 
April 2016
.