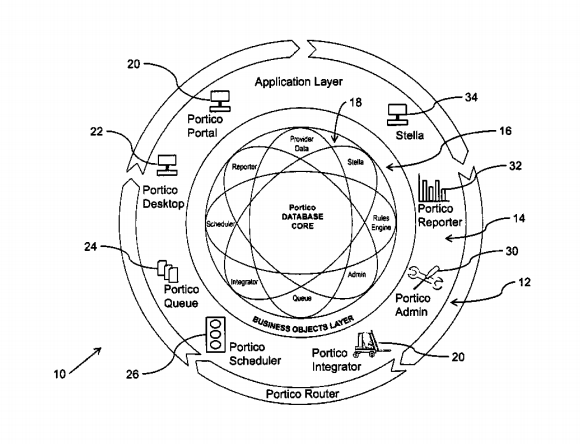 McKesson Health Solutions has been awarded a patent for proprietary technology at the heart of McKesson Provider Manager™ and other provider network management products. The patent is specifically for the system and method McKesson Provider Manager uses to unify information flow, business rules, and complex healthcare-related processes into an integrated set of core applications.
By bringing together traditionally fragmented, multi-layered silos of a healthcare organization, the invention allows coordinated management and automation of back office functions within one system. A consistent and up-to-date view of critical healthcare information is delivered to all stakeholders, and provider information and processes that were disjointed and managed manually become a robust strategic asset.
This marks the second patent granted for inventive technology behind McKesson Provider Manager. Earlier the USPTO issued U.S. Patent 8,181,187 for McKesson's Provider Gateway™ technology, and how it delivers results for complex provider searches across multiple datasets during peak transaction loads—such as claims adjudication—in less than one millisecond.
"Health plans have a tremendous volume of complex business processes that must often, if not always, operate in parallel and provide immediate results," said Carolyn Wukitch, Senior Vice President and General Manager of McKesson Health Solutions. "The patented technology at the heart of McKesson Provider Manager helps health plans ensure they can serve their providers and members in real time, with automated rules that let them see, update, report, and act on opportunities and demands across the enterprise. It's another example of how we continue to invest in innovative technology that helps payers better manage provider networks, implement and scale new value-based reimbursement models, enhance payment accuracy, and reduce administrative costs."
In the past, health plans used to employ a brittle mix of manual, hand-made, and limited commercial IT solutions to manage their provider networks. Today, thanks to the unique technology described by these patents, McKesson Provider Manager is helping payers across America create a single source of truth for their provider data to best support their needs, and those of their providers and members.