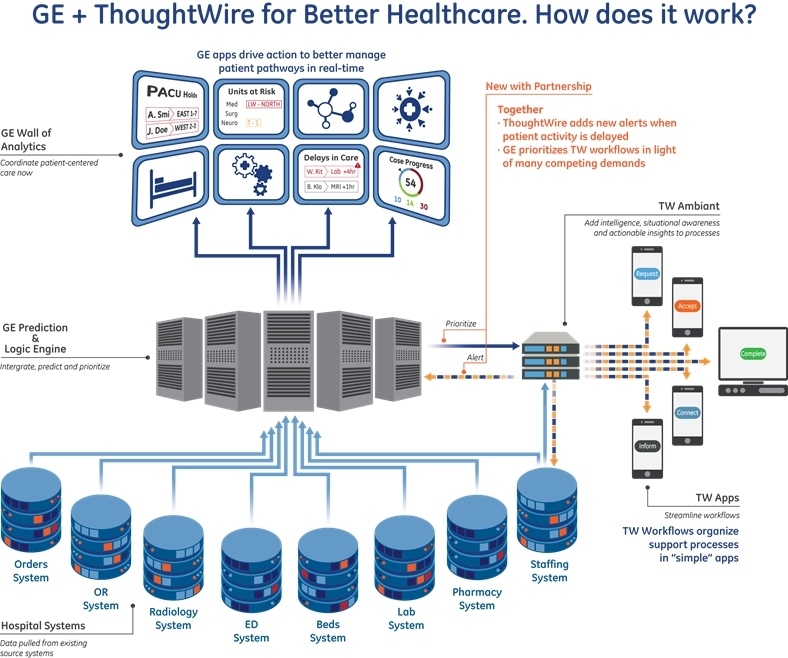 GE Healthcare Partners, the global management consulting arm of GE Healthcare, and ThoughtWire, a Toronto-based software company have teamed up on a five-year digital health collaboration agreement. The goal of the collaboration is to help hospitals and health systems implement new digital health tools designed to improve productivity, quality of care and the overall patient experience.  
With both companies being experts in building healthcare apps for smarter healthcare, together they can simplify and enable real-time decision making. GE Healthcare Partners' focus has been at the hospital and health-system level, while ThoughtWire has focused at the workflow level.
Combining their capabilities, GE and ThoughtWire have the potential to reduce patient waiting in the emergency department, reducing length-of-stay in the hospital, improving access to complex care and reducing turn-around-times for patient lab and radiology results among other targeted goals.
The goal of this collaboration is to help providers deliver seamless patient care," said Jeff Terry, Managing Principal, GE Healthcare Partners in the press announcement. "Together, GE and ThoughtWire will help hospitals and health systems better manage patient pathways using new real-time decision-support software."