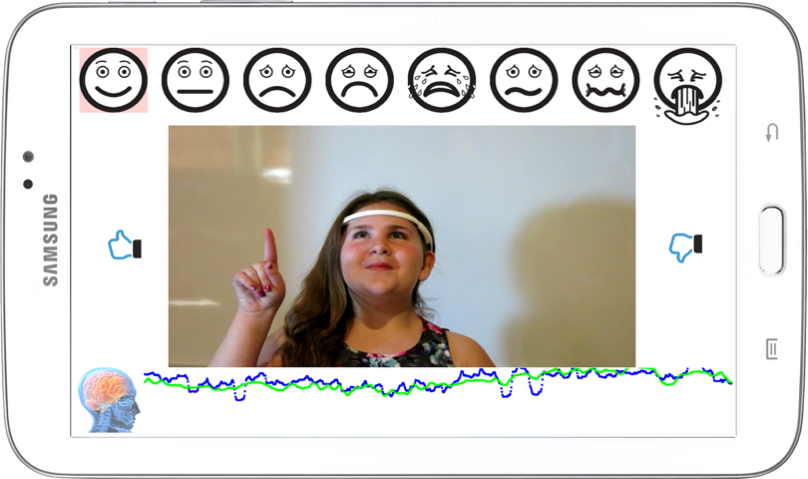 Editor's Note:  This post is sponsored by Samsung.
A new case study has been released in conjunction with Southern Hills Hospital, Samsung and AccendoWave, creator of a patient satisfaction platform that provides feedback on a patient's pain level and distress. With the help of Samsung's mobile devices, AccendoWave partnered with Southern Hills in a six-month pilot program to test the pain diversion technology in an effort to understand and help ease patient discomfort and create better patient experience. While healthcare providers can easily measure blood pressure, heart rate and temperature, gauging patient discomfort and offering solutions to pain is more challenging.
AccendoWave's platform detected, monitored and reported discomfort through proprietary wireless computing technology embedded in electroencephalography (EEG) systems and displayed the results on Samsung Galaxy tablets, which were tailored for the AccendoWave platform using Samsung's Knox Custom Toolkit.  
Samsung Solution
Through Samsung's Knox Toolkit, AccendoWave was able to gauge patient discomfort in the form of different pictures and rating tools. When it came to data privacy and security, the technology and toolkit was designed in a way that patients could only access the AccendoWave app. They controlled the hardware keys and system messages, and even facilitated remote updates of the application.
AccendoWave CEO Martha Lawrence talks about why they chose to use Samsung mobile devices in the pilot. "The Samsung Knox Custom Toolkit is the only solution we found that provided the ability to remotely manage, provision and update all aspects of the tablet in a secure environment, which is critical, as our healthcare providers are very cognizant of data security."
Lawrence adds that because technology in an emergency setting is often handled in a "heavy way," the durability of Samsung tablets was also key. "We needed the tablet to withstand repeated usage with minimal impact."
In addition to collecting data on pain levels, patients could also access diversionary content meant to distract them from their discomfort while in the hospital — including games, music, 300 hours of short video clips and full-length movies via DIRECTV.
Southern Hills Pilot Details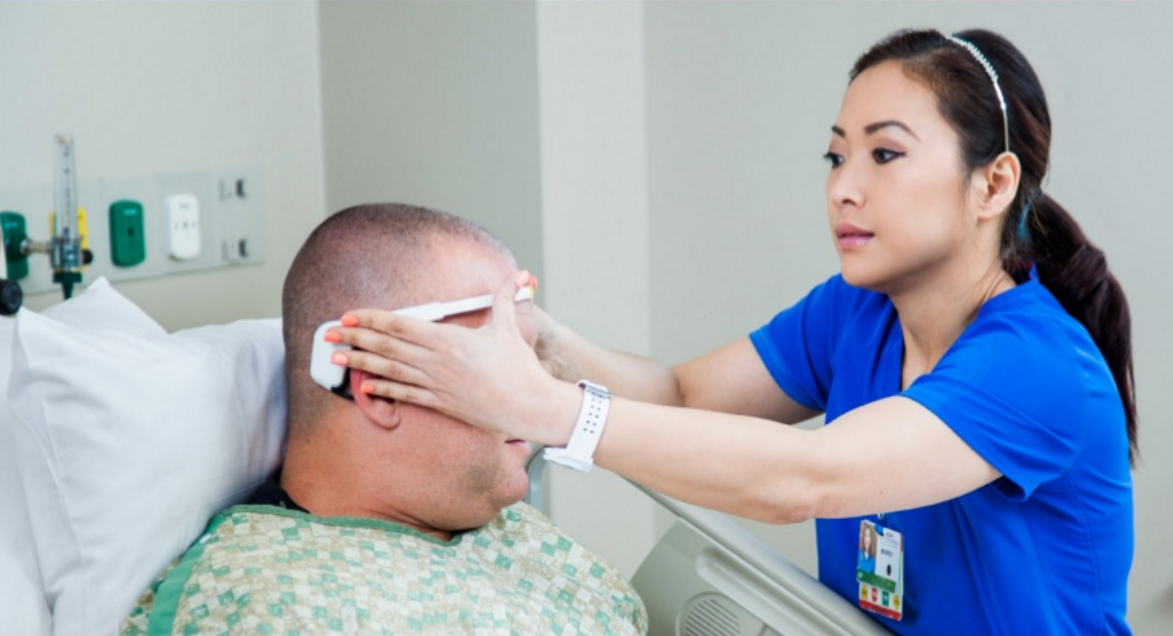 The pilot consisted of 1,000 volunteer patients in the Southern Hills emergency room, the orthopedic-spine unit and post-surgical adult patients on a complimentary basis. Patients had to wear a headband and earbuds that communicated with the handheld tablet. AccendoWave uses the headband to measure patient brain waves and then translate the results into a standard chart of facial expressions, which is displayed on the tablet screen. If patients disagree with the assessment, they can alter the results by selecting a different face, using thumbs up or thumbs down emojis and even use the like or dislike buttons.
"The technology tries to sense the patient's level of discomfort and identify content that relaxes each individual," explained Lawrence. "Then it changes the content to serve up more of what the patient is really focusing on. It helps to occupy their time while they're in the hospital, because there's a lot [of things] on there that you can tune into. You can listen to music or watch a movie. It takes their minds off just being in the hospital."
Pilot Results
Out of 334 patient surveys:
– 90% enjoyed using it;
– 87% were happy with the content shown to them;
– 81% said it helped them feel more comfortable; and
– 77% said it understood their discomfort.
Many health warning signs can be easy to ignore, but pain gets people's attention. Whether they're suffering from an injury, chest pain, abdominal pain or migraines, discomfort is one of the top reasons patients seek help in the emergency room. Hospitals and providers are constantly looking for ways to improve the patient experience by exploring cutting-edge solutions to age-old medical problems.
"Anytime you can have a differentiator in your service or how you're treating your patients, whether it's new technology or a new process, that's being cutting- edge," says Southern Hills Vice President of Marketing/Public Relations Joyce Goedeke. "So, new differentiators are always attractive to us, provided they improve our patient experience."
Several scientific studies back up Southern Hills' patient data, proving that distractions such as music or video games can be effective pain management solutions.
For more content like this, follow Samsung on Insights, Twitter, LinkedIn, YouTube and SlideShare.
References
http://www.slideshare.net/SamsungBusinessUSA/samsung-and-accendowave-help-hospitals-distract-patients-from-pain