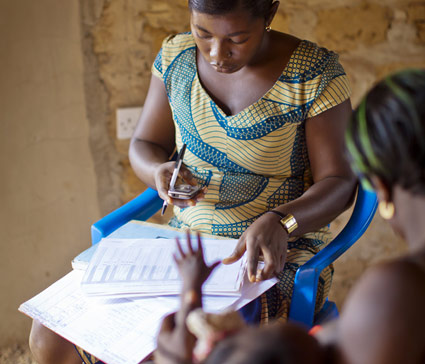 The Novartis Foundation is gathering experts across the public and private sectors to discuss digital health as an enabler to improve the quality of healthcare in low- and middle-income countries (LMICs), and how to bring impactful digital health programs to scale.
The two-day dialogue event, "Wired for impact: digital health at scale in low- and middle-income countries" is taking place in Accra, Ghana and is co-hosted by the Novartis Foundation and the Ghana Ministry of Health with the Ghana Health Service, who will showcase the strength of local ownership in driving digital health solutions at scale.
"We are at a crossroads where the healthcare needs in low- and middle-income countries are increasing while at the same time there is a rapid expansion of connectivity and use of technology," said Dr. Ann Aerts, Head of the Novartis Foundation. "Thus, it is critical that we share knowledge on how best to use technology to improve patient reach and quality of care in a way that is scalable for the longer term. At this week's dialogue event in Ghana, we will hear diverse experiences across Africa on how to achieve impact at scale."
Digital health solutions have shown great promise and potential in LMICs. The penetration and use of mobile phones highlights the potential for digital health to support healthcare delivery; approximately 8 in 10 people in developing economies own a mobile phone on average, and the number is steadily rising. In the context of healthcare, mobile devices can help remove barriers to accessing care, improve care delivery for both healthcare providers and patients, empower patients through targeted messaging, and collect real-time data to optimize resources and decision-making.
Over the past few years, the promise of digital health has led to an increased integration of digital health solutions into programs aimed at improving health in LMICs. However, translating this potential into scalable, evidence-based, integrated programs that yield long-term health improvements, remains a challenge and there is an ongoing need to share experiences.
"Digital technology plays a role in many public health interventions here in Ghana. One example is the Telemedicine initiative. This program uses simple mobile phones to connect frontline workers to a teleconsultation center to provide care to the community members irrespective of where they are, and is a means to improve the overall quality of healthcare," said Dr. Anthony Ofosu, Deputy Director Policy, Planning, Monitoring and Evaluation, Ghana Health Service. "And while technology is an important tool to advance our national health strategy, it is essential that we never lose focus on the human side as we build our programs – the patients, the healthcare workers and the community."
In Ghana, the Novartis Foundation worked with local and international partners – including the Millennium Villages Project – on a model for telemedicine services that is now being expanded by Ghana Health Service and the Ministry of Health to the rest of the country. The telemedicine model uses digital health technology to connect community health workers with more experienced healthcare professionals at the teleconsultation center in the district referral hospital.
Originally pioneered in a remote region of the Amansie-West district in Ashanti, the Ghana Ministry of Health has first scaled the telemedicine model to the entire Amansie-West district and then extended to three additional regions (Central, Volta and Upper East). In 2016, telemedicine will be implemented in the Eastern and Greater Accra regions and a roadmap for national scale up by 2017 is in development.