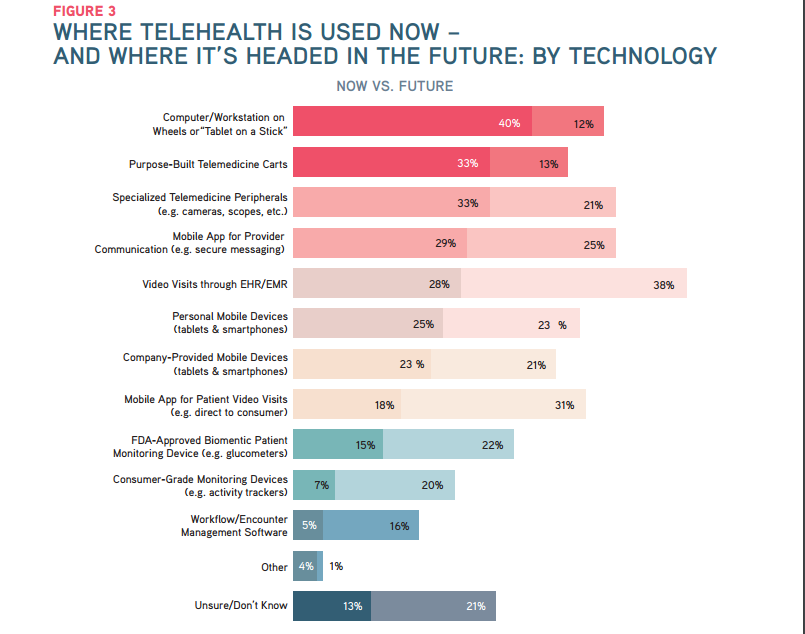 38% of executives most want their organizations to implement telehealth video visits through the EMR/EHR, and adopt mobile apps for provider-to-provider and patient-to-provider communications, according to recent findings from a national telehealth survey conducted by Avizia. The report, "Closing the Telehealth Gap," surveyed more than 280 healthcare leaders from U.S. hospitals, physician groups, ambulatory centers and other healthcare groups, and exposed a major disconnect between how healthcare providers currently use telehealth versus how they want to use the technology.
Overall, the report found 72 percent of U.S. hospitals are currently using telehealth, compared to 52 percent of physician groups/clinics. The most popular use of telehealth is through a computer workstation on wheels or 'tablet on a stick' with 40 percent of responding organizations reporting usage.
Most Common Service Lines for Telehealth
According to the findings, the most common service lines using telehealth today include:
– stroke (44 percent)
– behavioral health (39 percent)
– staff education and training (28 percent)
– primary care (22 percent)
However, when executives look to the future, patient education and training lead the wish list (34 percent), closely followed by remote patient home monitoring (30 percent) and primary care (27 percent).
Key Findings
Other findings in the telehealth report include:
– While past reports have cited consumer adoption as a top barrier to telehealth usage, these new findings show the main obstacle for healthcare providers remains centered around cash flow—without enough to fund the technology, or enough potential revenue to justify an expense. The top two barriers, encountered by about half of organizations, are the necessary investments for telehealth technology and infrastructure (50 percent) and issues related to reimbursement (48 percent).
– Healthcare providers in large states (population 8 million to 14.9 million) are the least likely among all state groups to use telehealth
– Small states are the most likely to encounter regulatory issues
– Physician practices and clinics have more trouble with maintenance and ongoing support for the technology than hospitals and health systems
When it comes to what drives telehealth adoption, healthcare professionals appear to have different, but not surprising motives. Those in senior management, including CEOs, presidents and administrators, believe more than all other groups that meeting value-based care goals and expanding service lines are driving their organizations to pursue telehealth. Those in information technology management are reportedly more focused on revenue drivers—reaching new patient populations, increasing revenue and lowering operating costs were all top drivers for this group. Clinicians, not surprisingly, believe telehealth is most driven by improving clinical outcomes.
"We live in an age where we want everything to be easy, safe and effective. When we access our health services we essentially want the same experience as buying a pair of running shoes on Amazon or FaceTiming a friend. But, when it comes to our health, the stakes are much, much higher. Providing remote access to care and information can mean the difference between life and death," says Mike Baird, Avizia CEO and Cofounder.
"To get the best tools into the right hands, we all have to come to the table and work to create solutions that fit the unique needs of our healthcare system, and that is what we do at Avizia every day," said Baird. "That means working with EMR providers and healthcare decision-makers to ensure our technology works effectively, integrates with their technology, and helps patients better manage their conditions so we can lower costs in the system overall."  
Report Background/Methodology
The "Closing the Telehealth Gap" report was conducted by Avizia and Modern Healthcare Custom Media in March 2016.The purpose of the research is to gauge how and why healthcare providers are using telehealth in their organizations. Invitations to participate in a web-based survey were sent via email to 15,000 healthcare executives in Modern Healthcare's database during March 2016. As an incentive to complete the survey, respondents were offered the chance to win one of two $250 gift cards. The findings of this survey may be accepted as accurate, at a 95% confidence level, within a sampling tolerance of about +/- 5.5%.
To read the full report and findings please visit   https://www.avizia.com/research-report-closing-telehealth-gap.