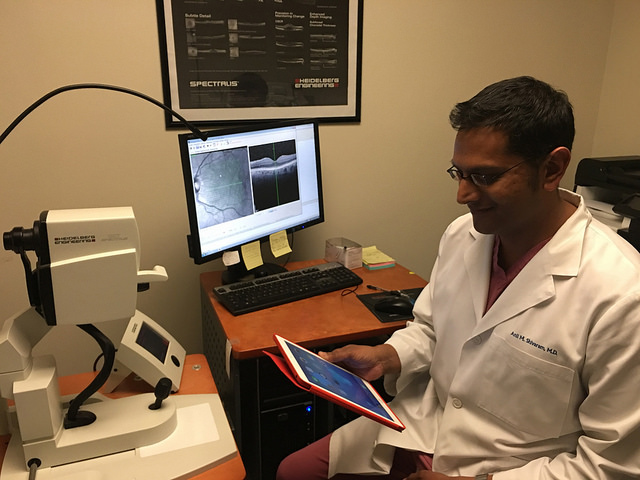 Global eye health company Bausch + Lomb and IBM are teaming up to develop the first of its kind iPhone and iPad app for surgeons who perform cataract surgery. The app will allow surgeons to streamline their workflow by delivering patient information and clinical insights as well as intraocular lens (IOL) options on a single, digital platform at the point of care. Pilot study testing for the new app is expected to begin in late 2016.
The app will be designed to send patient data across iPhone and iPad while hosting health-related data on IBM Cloud Platform, Bluemix — a security rich, cloud-based environment — and relaying customized IOL options to surgeons that they will use to help enhance surgical planning and provide better patient care.
The MobileFirst for iOS team, which is part of IBM Global Business Services, will design and develop this custom app for Bausch + Lomb to help drive innovation in healthcare. The goal is to optimize the app to collect data over time, resulting in a cognitive app that applies machine-based learning and predictive analytics to deliver real-time insights to surgeons.
By compiling each cataract patient's information in the app — including IOL calculations, corneal topography and other biometry results as well as lifestyle preferences — surgeons and their staff may generate a comprehensive, integrated profile to help them facilitate IOL selection and procedure planning. Historical surgical data and other patient insights can also be housed within the app to potentially support positive clinical outcomes for future cataract.
 "This new mobile solution has real potential to fundamentally change how our practice manages patient information throughout the cataract procedure, from planning through post-operative follow-up," said Anil Shivaram, M.D., from Claremont Eye Associates in Claremont, CA in the press release announcement. "Additionally, having the ability to access the variety of each patient's surgical information on an iPhone or iPad will allow surgeons to streamline their time management and decision-making process.  Allowing this mobile platform to organize and essentialize the numerous data sets that cataract surgeons must tackle with each case will also allow for refinement over time for each individual surgeon. By capturing, displaying, and analyzing the data over time in an iterative process, this app is expected to help surgeons provide better care and potentially help provide improved surgical outcomes, while at the same time increasing their efficiency."
Featured image credit: Bausch + Lomb