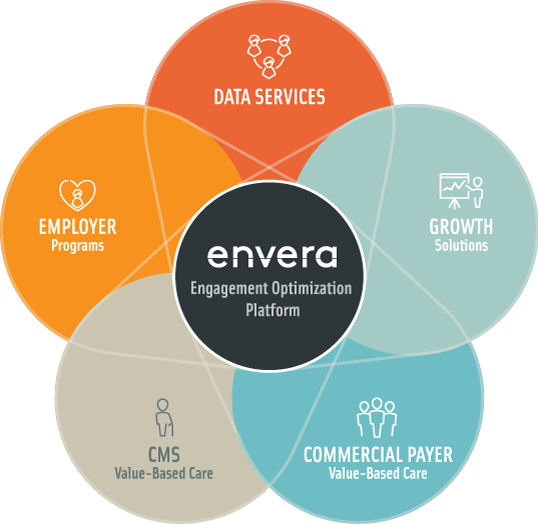 Envera Health, a hands-on partner for optimizing provider and consumer engagement, empowering health systems to deliver their best patient care has raised $14M in funding led by Harbert Venture Partners (HVP) and Noro-Moseley Partners (NMP).  Founded by CEO Dan Neuwirth, Envera Health's patient engagement optimization platform combines expertise, managed services, data, technology and infrastructure that enable our partners to achieve clinical, financial and growth objectives.
Envera Health has also acquired inHEALTH and MedVirginia, from Central Virginia Health Network, owned by leading health systems including Bon Secours Health System, Inc., University of Virginia Health System, VCU Health, and others. Through this acquisition, Envera enhanced its comprehensive care management, health information exchange capabilities and call center management. 
Envera combines call center and care management capabilities, as well as a remote patient monitoring, health information exchange, a proprietary clinical decision support tool developed by the Cleveland Clinic, and much more to put the needs of patients and clinicians at the forefront.
These integrated and comprehensive capabilities drive excellence for healthcare provider organizations in the following three key areas:
– Connecting services: Envera Health enables informed communications, gathers data and shares information across disparate settings, and drives actionable insights.
– Choreographing care: Envera Health organizes workflow and communications of a health system's providers across the care continuum, and coordinates services to create and carry out personalized care pathways.
– Customizing growth solutions: Envera Health optimizes current fee-for-service arrangements while building a health system's capabilities to succeed in alternative payment models by capturing revenue appropriately and building long-term affinity with healthcare consumers.
"Envera Health has an incredible opportunity to transform the broken healthcare ecosystem by making better engagement in health possible," says Neuwirth, CEO of Envera Health. "We empower healthcare providers through a platform designed to optimize both clinical and financial performance, while improving the care delivery experience for both patients and care givers."