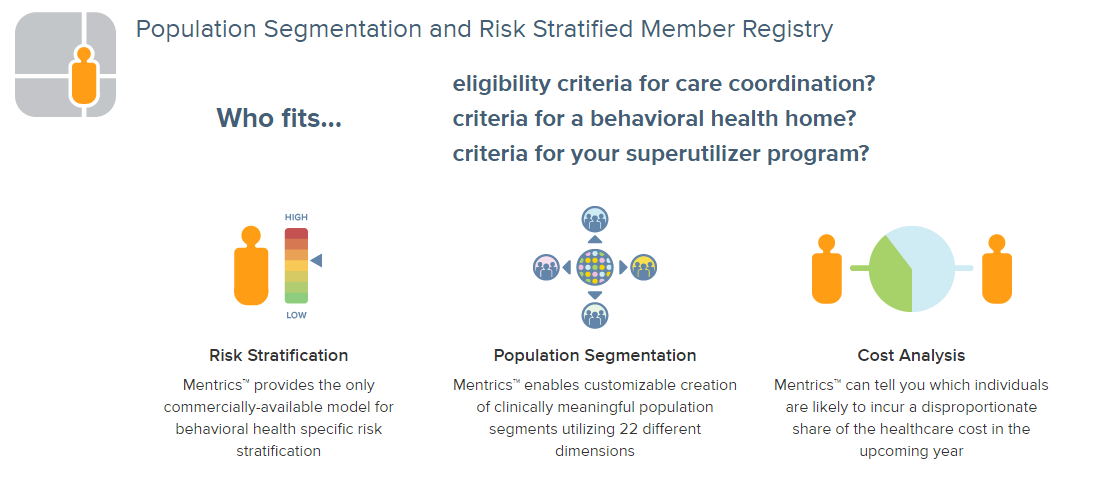 Behavioral health analytics provider ODH, Inc. and IBM Watson Health are teaming up to launch Mentrics, a population health management platform designed to help managed care organizations transform the quality and cost of behavioral healthcare. The platform is built specifically for managed care organizations that handle behavioral health benefits. Mentrics will streamline data and care coordination while generating valuable insights to help optimize care for patients with behavioral health conditions.
Partnership Details
Using Watson Health Cloud, the system will gather and aggregate health data, including behavioral and physical medical services and prescription claims, from fragmented sources into one easy-to-use platform that can deliver comprehensive and predictive insights for a coordinated, collaborative and holistic approach to improving care for individuals suffering from behavioral health conditions. Mentrics clients can tap into broader data on the Watson Health Cloud for deeper insights such as similarity analytics.
Mentrics can be deployed in a software-as-a-service (SaaS) model on IBM's Watson Health Cloud for seamless integration with an organization's existing infrastructure and storage capacity. The cloud environment also enables integration of clinical, scientific, and exogenous data in structured and unstructured formats, and can offer cognitive insights into risk stratification and personalized care.  
"Mentrics is the result of four years of research and development to tackle the challenges facing  managed care organizations responsible for behavioral health benefits," said Michael Jarjour, president and CEO, ODH, Inc. "Built with our deep expertise in behavioral health and using IBM's technology and security prowess, Mentrics represents what we believe will be a turning point in the industry's ability to substantially improve care quality and outcomes, as well as network efficiency for reduced costs."
Mentrics supports managed care organizations responsible for behavioral health populations in three key areas:
1. Behavioral Health Population Management
Mentrics enables customizable creation of clinically meaningful population segments, via use of its 22 different dimensions including the only commercially-available model for behavioral health specific risk stratification. Population segmentation allows understanding of the whole population and the cohort most likely to benefit from intervention. Once identified, care coordinators can address these potential gaps in care and discuss interventions with the members, their physicians and internal stakeholders.
2. Provider Network Performance
Mentrics provides the insights necessary to assess the effectiveness and efficiency of network providers. The solution compares the risk-adjusted performance of providers and creates score cards to assess the performance of the entire provider network in support of value-based payment arrangements.
3. Patient Care Coordination
Mentrics creates an intuitive and easy-to-use longitudinal visualization of each member's treatment history and trends of all services and pharmacy, which helps care coordinators pinpoint gaps in care or lapses in medication adherence enabling optimized patient care. Mentrics further delivers predictive analytics that identify members climbing the cost and risk curve enabling timely intervention and assistance for members with the greatest need.
"New analytic tools are needed as behavioral health benefits are integrated into managed care plans," said Arthur Webb, founder and group leader of the Arthur Webb Group, a consulting firm that specializes in translating national health reform into practical solutions in an official statement. "Mentrics is a next-generation software and services solution poised to become an invaluable asset to managed care organizations responsible for behavioral health populations that are seeking to improve population health management and the performance of provider networks."