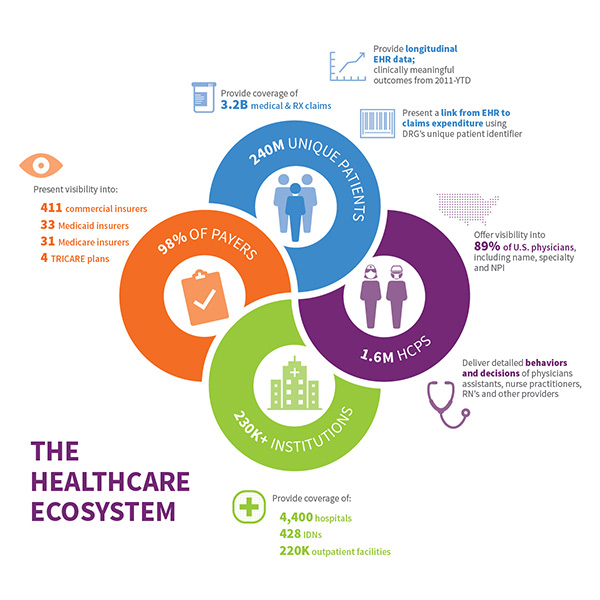 Decision Resources Group (DRG), a provider of healthcare analytics, data and insight products has launched a Real World Evidence (RWE) repository of claims and EHR data that provides insight to over 90% of the U.S. healthcare system. The RWE data asset derives from multiple data providers in the U.S. and comprises patient, healthcare professional and payer level analysis.
The DRG RWE repository covers:
– 240M unique U.S. patients with over 5 years of historical data
– 3.2B medical and pharmacy claims allowing for in market analysis of care and EHR detail for patients, cost and outcomes data
– 1.6M U.S. healthcare providers allow for profiling healthcare professional prescribing and treatment behavior
– 98% coverage of U.S. healthcare plans, including claim rejection rates and adjudicated payments and out of pocket costs allowing for detailed payer behavior analysis
DRG is currently leveraging its nearly 400 Ph.D. and M.D. analysts worldwide to provide customers with disease specific insights that the DRG RWE repository will inform. For example, the DRG RWE repository currently has strong coverage of T2 Diabetes and the ability to profile SGLT2 adoption in real time, payment details that delineate patient economics, and lab values that depict clinical progression of patients.
Additionally, DRG also is utilizing the DRG RWE repository to make available custom and interactive analytic dashboards and analytics services to help clients integrate and consume pieces of the data that will enable them to answer important business questions rapidly and obviate the burden of time-consuming and costly data integration, interoperability and analysis challenges.
"As healthcare continues its shift from volume to value, DRG's RWE repository enables academic grade analysis of the cost centers of healthcare in the U.S., as well as the behaviors and outcomes of treatment and coverage decisions," said Brigham Hyde, Senior Vice President of Analytics and Chief Data Officer at DRG in the official announcement. "This wealth of expanded data uniquely positions DRG to help healthcare stakeholders understand, for example, the physicians who are influenced by Payers and ACO policies. We are very pleased to augment our existing data assets with the DRG RWE repository to generate more impactful and valuable insights, analytics and consulting-based solutions for all healthcare stakeholders."
DRG is expanding its expertise to offer its clients more complete and dynamic analyses in the following areas:  HEOR, epidemiology validation, patient-level forecasting and market sizing, patient-level compliance and real-time network influence.