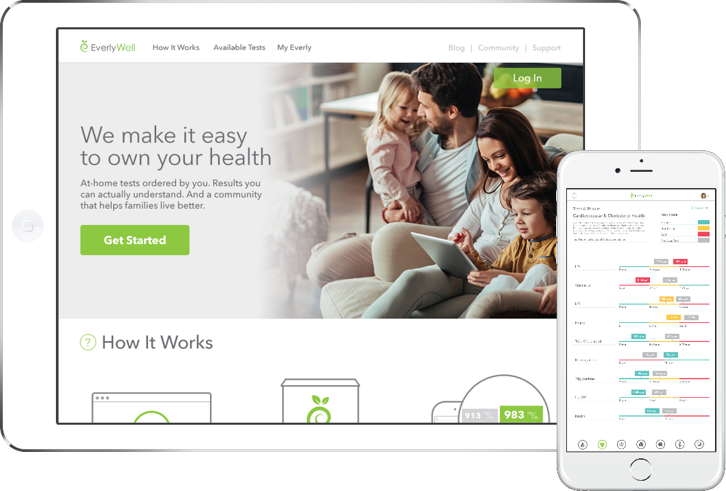 Digital health startup EverlyWell, today announced it has raised $2.5 million in seed funding to expand its suite of regulatory-compliant at-home diagnostic tests. The Austin, TX-based startup is transforming traditional health testing by providing consumers with convenient access to tests and easy-to-read results.
The company's e-commerce platform enables customers to buy a variety of test kits online, easily collect their sample at home, and get informative results at their fingertips. EverlyWell will offer a suite of proven tests with physician review that don't require consumers to visit a lab or doctor's office. Starting at $199, Food Sensitivity, Women's Health and Hormones, and Elements kits are available for order.
How It Works

EverlyWell's platform is easy to use. A customer selects and purchases a kit that arrives to their home, and he or she collects a sample and sends it to EverlyWell's lab partners. Results are available in a few days through an easy-to-read digital interface with both infographics and descriptive information. Kit samples are collected via pinprick dried blood spot, saliva or urine.
EverlyWell is partnering with several of the country's most advanced CLIA-certified laboratories to conduct the test analyses and is working with a national physician network to authorize the test requisitions and review customer results.
"Diagnostic testing is a subpar experience for the individual," said Dr. Murdoc Khaleghi, EverlyWell's Chief Medical Officer. "EverlyWell has developed an innovative platform that places the consumer at the center, empowering the individual to order, understand, and improve their own biomarkers. Health information is a powerful tool in preventing long-term and chronic disease, and ultimately should be accessible and understandable to all."