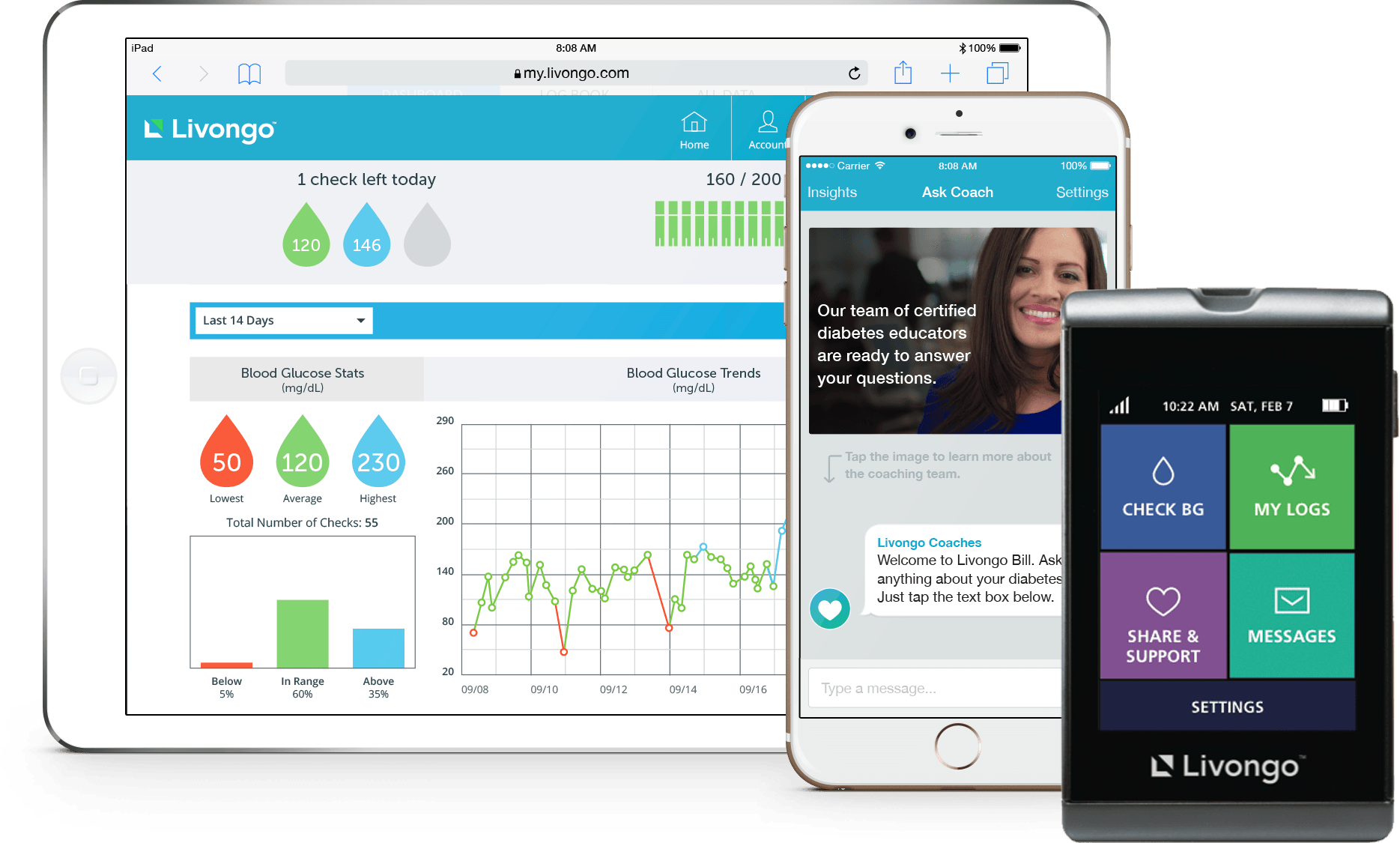 Livongo Health, a consumer digital health company that is empowering people with chronic diseases to live better has raised $44.5 million in Series C funding from investors including Merck Global Health Innovation Fund; Cowen Private Investments; Sapphire Ventures; Zaffre Investments, the investment arm of Blue Cross Blue Shield of Massachusetts; Wanxiang America Corporation. Existing investors General Catalyst, Kleiner Perkins Caufield & Byers (KPCB), DFJ, and 7wire Ventures. also contributed to this round.
The funding brings the total amount raised  to more than $77.5M. The Chicago-based startup lead by former Allscripts CEO Glen Tulluman plans to utilize the funding to accelerate the launch of new chronic disease management products/services and expand into new market segments. 
Livongo Health's Approach to Diabetes Management
Livongo Health's approach to diabetes management is guided by three simple principles:
1. people with diabetes want to spend less time on their condition;
2. people who treat diabetes want less data and more, better, real-time information so they can help;
3. payers – including healthcare companies, employers and, increasingly, all of us – want to spend less
It is the first diabetes management program targeted to people with either Type 1 or Type 2 diabetes is completely mobile, digital and personalized to the user. It allows people with diabetes to effectively manage important aspects of their illness on their own. It also allows them to easily keep their family members and care team informed in real-time. 
Each Livongo for Diabetes user receives the company's In Touch® blood glucose smartmeter, a proprietary mobile device that is the first cellular-enabled, two-way interactive blood glucose meter. The device captures a user's biometric data and uploads it to a cloud-based inference engine where historical data, clinical rules and predictive modeling are used to convert it into useable information and support that is instantly returned back to the person with diabetes.
This data can also be shared with anyone in the user's family or care team, including a Livongo Certified Diabetes Educator, who can provide real-time feedback and assistance via push notification, text, email or phone. The Livongo program offers unlimited test strips at no extra charge and removes daily hassles like hand-written logbo
Recent Traction and Growth
Livongo is not only seeing rapid growth in new customers but also national expansions with existing clients like industry innovation leader Lowe's. The FORTUNE 50 home improvement company initially deployed Livongo Health's innovative solution to a group of employees and their family members diagnosed with diabetes in Lowe's North Carolina, South Carolina, and Alabama markets last September. Based on strong early results, Lowe's expanded access to Livongo for Diabetes in March to employees and dependents nationwide.