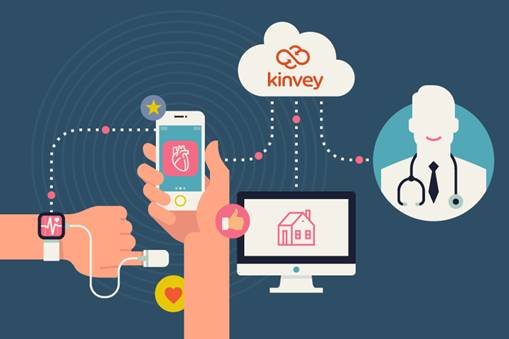 Kinvey, an enterprise mobile Backend as a Service (mBaaS), today launched a HIPAA compliant mBaaS on Google Cloud Platform. The fully-managed service will allow healthcare providers and pharma businesses to more rapidly adopt mobile strategies and mHealth, like connected medical devices, patient adherence apps to manage chronic diseases, apps for clinical trials.
This is a significant announcement for Kinvey + Google in the healthcare space — leapfrogging the likes of AWS, Microsoft  Azure and IBM — who don't have a similar complete offering for the healthcare and pharma industry.
Healthcare's demand for cloud-based mobile solutions is driven by three major factors:
1. Dramatic increase in mobile app usage by patients, physicians and consumers
2. Intense pressure for healthcare organizations to reduce costs while improving outcomes
3. Increased HIPAA regulatory oversight and fines
Healthcare organizations are under extreme pressure from both the U.S. government and payers to reduce costs while improving patient outcomes. Mobile healthcare (mHealth) is poised to make a huge impact with connected medical devices, wearable devices, patient adherence apps to manage chronic diseases, apps for clinical trials, and other B2C, B2B, and B2E apps to drive increased productivity, lower costs, and improve patient-centric healthcare.
The mHealth solution market is projected to reach $59.15 Billion by 2020, but mobile apps pose new challenges for adhering to privacy and security rules for securing Protected Health Information (PHI) covered in HIPAA and HITECH. Healthcare organizations that fail to implement the necessary safeguards as required by these laws risk exposing sensitive PHI and may also incur the high costs of non-compliance.
Kinvey's HIPAA Compliant mBaaS addresses all three aspects of this perfect storm. It provides healthcare providers, payers and pharmaceutical and life sciences companies with a secure, compliant and complete platform for all of their mobile and responsive web apps. Given that it's delivered as a fully-managed service, running on Google Cloud Platform, customers can focus on delivering their apps instead of building, managing, securing, and patching infrastructure – significantly reducing IT CAPEX and OPEX costs and dramatically reducing app time to market.
"With the rise of mHealth, our customers asked for a secure, HIPAA compliant service for their mobile app delivery," said Sravish Sridhar, CEO Kinvey. "We looked at different clouds to host our mBaaS and chose Google Cloud Platform because the combination of their performance, security, and price was unmatched relative to Amazon Web Services, Microsoft Azure, and IBM."
Kinvey ensures adherence to all aspects of the HIPAA Security Rules:
– Administrative safeguards
– Physical safeguards
– Technical safeguards
– Organizational requirements
– Policies and procedures
– Documentation requirements
Kinvey will also sign a Business Associate Agreement (BAA) with its customers to cover the Kinvey service and underlying infrastructure.
The Kinvey mBaaS service provides a secure, complete platform for mobile development. On the mobile client, Kinvey's client libraries encrypt all data at rest. SSL 256 bit cipher with signed certificates are used to secure data in transit. Kinvey provides built-in and enterprise authentication services employing anonymized tokens and secure key management.
The platform includes a built-in encrypted data vault and provides secure IPSEC VPN connectivity to enterprise data sources. It also includes the recently announced Kinvey Operational Intelligence, providing actionable compliance tracking and reporting.
Kinvey HIPAA Compliant mBaaS is available today.