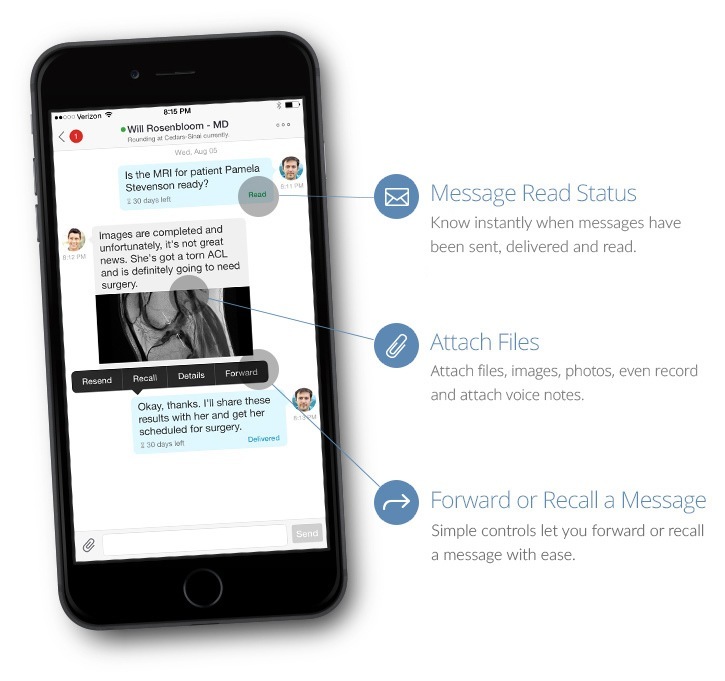 Sadly, the majority of the healthcare industry is still using outdated pager services, over paying by 45 percent. TigerText, the secure communications leader in healthcare, announced its Spring '16 release which focuses s on optimizing clinical workflow efficiency and reducing the costs of care delivery. TigerText's Spring '16 release new features such as priority messaging, auto-forwarding, as well as a standalone desktop application help speed the exchange of information and reduce the aggravation clinicians and care teams face when trying to effectively coordinate patient care.
Read More: TigerText Study: Hospitals Overpay by 45% for Antiquated Pagers
The innovations in TigerText's Spring '16 release are a direct reflection of the company's commitment to listening and translating customer feedback into useful and relevant product updates. Through the company's voice-of-the-customer program, key feature requests from hundreds of customers are shared regularly with the product development team, who evaluate and prioritize the most relevant features and then bring them to market.
TigerText Spring '16 Features
These new product features for iOS, Android, and Desktop platforms include:
– New Desktop App – Access TigerText from a PC or Mac; Self-updating app with built-in alerts
– Auto-Forward – Automatically forward messages to a colleague while in Do Not Disturb mode
– Priority Messaging with Distinctive Ring – Send high-priority messages that stay at the top of the recipient's inbox and specify a unique mnemonic alert for instant differentiation
– Connection Status Banner – Know instantly when connectivity is low or unavailable
– Rooms – Communicate topics of interest in an internal, community forum
– 'Active' Indicator – Identify when a co-worker is present and available
– Spotlight Search by Title and Role (iOS) – Search TigerText contacts using iOS' Spotlight Search capability
Android-specific updates:
– New Material Design – Navigate faster using Android's latest design guidelines
– Android for Work Designation – Manage TigerText users with Google's MDM admin tool
– Floating Action Button – Perform functions and draft messages from a single icon
Other noteworthy improvements:
– Faster Data Transfer Speeds – Messages travel 10x faster with new protocols
– Group Message Status – See Sent/Delivered/Read status for each user in a group thread
– Search and Directory – Look up users by role or find content by keyword
TigerText occupies more than 50 percent market share in the secured messaging industry,processes nearly 20 million messages a day, and has significantly improved hundreds of communication paths within various industries.
"TigerText provides us a solid balance of key features and usability. The platform is easy to administer, reliable, and secure," said Jonathan Slotkin, MD, FAANS, Medical Director of Geisinger in Motion at Geisinger Health System. "We have looked at various solutions – it isTigerText that best balances user needs with the reporting and administration requirements that a larger organization like Geisinger desires."