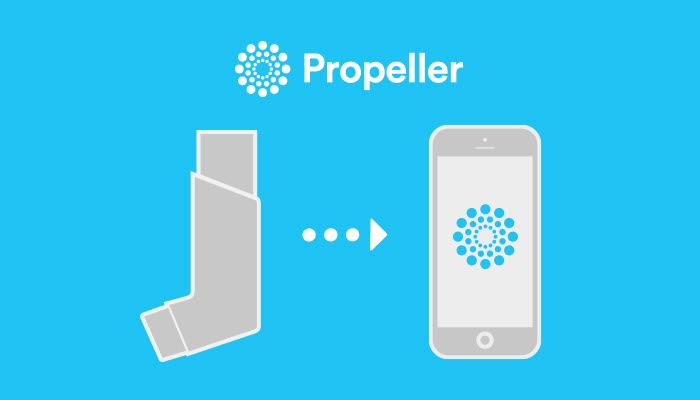 Propeller Health, a digital health solution for respiratory medicine, and Boehringer Ingelheim Pharmaceuticals Inc., a global pharmaceutical company and leading provider of inhaled medications for serious respiratory diseases, today announced a first-of-its-kind commercial partnership that aims to use digital health tools and services to help people living with chronic obstructive pulmonary disease (COPD) and asthma better manage their disease.  This partnership further validates Propeller's lead as the only digital health company with multiple industry partnerships across Pharma and device manufacturers (Aptar, GSK). 
As part of the partnership, BI will will fund commercialization of Propeller's digital platform to improve adherence for BI's respiratory drugs at multiple health systems in the US.  BI has one of the largest respiratory medication franchises, including Spiriva, the #1 drug prescribed for COPD. The partnership marks the first commercial agreement of its kind in respiratory market, where big pharma is commercializing a digital health solution broadly in the US.
People living with COPD and asthma, who are being treated with a Boehringer Ingelheim prescription medications approved for use in the company's Respimat inhaler, will have the opportunity to enroll for free at select US health systems in a new program co-marketed by Propeller and Boehringer Ingelheim. The new program is designed to determine how Propeller's novel health technology tool for the RESPIMAT inhaler impacts adherence rates and patient engagement.
This partnership builds off an earlier deal with Boehringer Ingelheim to develop a custom medication sensor for their Respimat device. The partnership is a clear indication of the acceleration of the trend of pharmaceutical companies investing to commercialize digital services that improve the use of medications and the outcomes associated with these medications. 
In March 2015, the U.S. Food and Drug Administration (FDA) granted 510(k) clearance to market Propeller's health technology platform in association with the RESPIMAT inhaler.  Propeller uses a combination of inhaler sensors, apps, analytics, personal feedback and education. The platform passively tracks how and when each patient uses their inhaled medications and can send alerts to patients and their caregivers. Propeller creates a custom view for each patient, allowing them to better understand the impact and management of their disease in daily life.
The RESPIMAT is the platform inhaler for the Boehringer Ingelheim respiratory medications. For more information about the RESPIMAT inhaler and the medicines approved for use in the RESPIMAT, please visit www.us.respimat.com.  
"We are excited to work with Boehringer Ingelheim to bring Propeller to people with asthma and COPD at health systems across the U.S. Together, we believe that digital tools can complement the use of  respiratory medications and encourage more appropriate and effective management of chronic respiratory disease," said David Van Sickle, CEO of Propeller.
Propeller has been used by people with respiratory diseases in over 40 commercial programs across the U.S., including major healthcare systems, payers, employers and other organizations. It is compatible with the majority of commonly used asthma and COPD inhaler devices including controller and reliever metered dose inhalers (MDIs), and other inhaler devices (dry powder inhaler (DPI) and soft mist inhaler (SMI)).