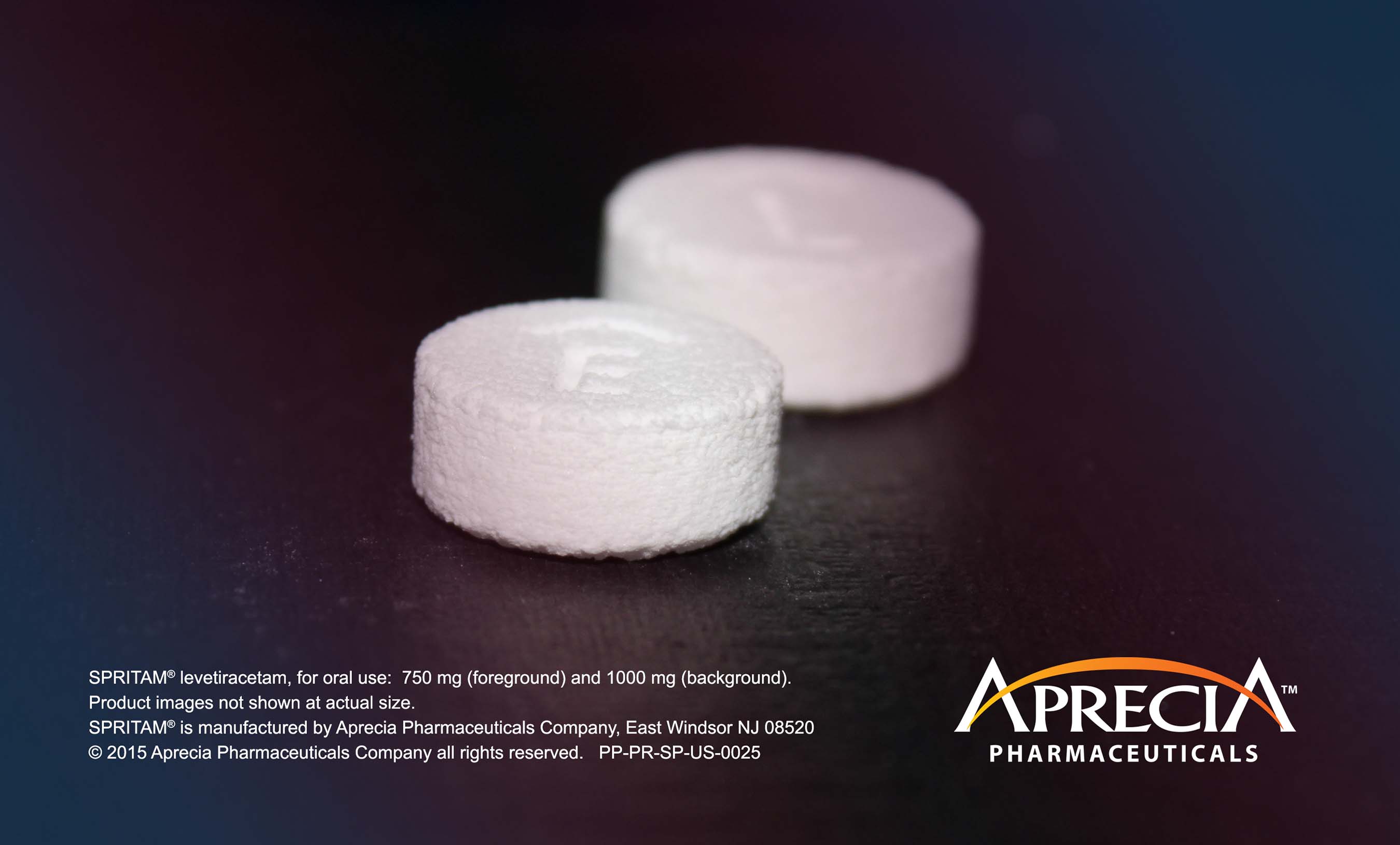 Aprecia Pharmaceuticals today announced that SPRITAM® (levetiracetam) tablets, for oral suspension, is now available as an adjunctive therapy in the treatment of partial onset seizures, myoclonic seizures and primary generalized tonic-clonic seizures. SPRITAM is the first prescription drug product approved by the U.S. Food and Drug Administration (FDA) that is manufactured using 3D printing technology. This innovative product disintegrates in the mouth with a sip of liquid and offers a new option for patients, including those who may struggle to take their medicine.
SPRITAM is formulated with Aprecia's proprietary ZipDose® Technology, which combines the precision of 3D printing and formulation science to produce rapidly disintegrating formulations of medications. Manufactured in a regulated commercial-scale facility, SPRITAM is available in four unit-dose strengths, including 250 mg, 500 mg, 750 mg and 1,000 mg.
Nearly three million people in the United States were living with active epilepsy in 2013,1 and about 150,000 new cases are being diagnosed every year in the U.S.2
Swallowing challenges can make taking medication difficult. In fact, two separate online surveys found that between 40 percent (N=679) and 50 percent (N=1,000) of surveyed U.S. adults – even those without epilepsy – have experienced difficulty swallowing tablets and capsules.3,4,5 Both surveys reported that 8 percent of those who reported swallowing difficulty also admitted to skipping doses of prescribed medication.3,4 In a separate survey conducted in epilepsy patients (N=661), adherence issues were shown to have the potential to undermine treatment outcomes, with results indicating that as many as 45 percent of epilepsy patients reported experiencing a seizure after missing a dose of their medication.6
"As we explored potential applications for our 3D printing technology in prescription drug products, it was important that we identified disease areas with a real need for patient-friendly forms of medication," said Don Wetherhold, CEO of Aprecia. "SPRITAM is designed to transform what it is like to take epilepsy medication, and is the first in a line of products we are developing to provide patients and their caregivers with additional treatment options."
References
CDC. Epilepsy Fast Facts. Available: http://www.cdc.gov/epilepsy/basics/fast-facts.htm Accessed February 2016.
Epilepsy Foundation. What is Epilepsy? Available: http://www.epilepsy.com/learn/epilepsy-101/what-epilepsy. Accessed February 2016.
Harris Interactive Inc. Pill-Swallowing Problems in America: A National Survey of Adults. New York, NY: Harris Interactive Inc. for Schwarz Pharma; 2003.
Hermes Pharma. Market study reveals difficulties swallowing tablets wide-spread and opens up new revenue opportunities. Press release, September 2, 2014.
OTC Bulletin. "Hermes Highlights Need for Better Formats." 8; July 25, 2014.
Cramer JA, Glassman M, Rienzi V. The relationship between poor medication compliance and seizures. Epilepsy Behav. 2002;3(4):338-342.