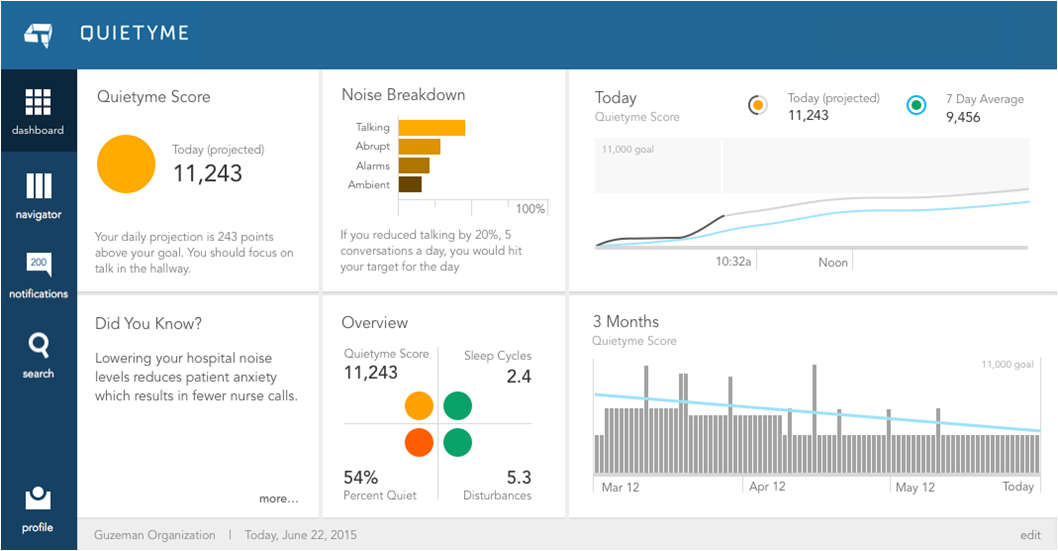 Quietyme Inc., a venture-backed sensor technology company, has unveiled a new solutions dashboard and reporting suite designed to help nurses and hospital administrators reduce patient noise disturbances in hospitals. The new predictive analytics solution is a proprietary technology platform built on the real-time streaming data of the company's decibel sensor network currently used in dozens of hospitals, hotels and residential buildings.
In 2013, the U.S. Department of Health and Human Services elevated hospital noise reduction efforts from what was previously considered an add-on activity to what is now a 'fundamental element' of all clinical improvement efforts. Current academic research support this new priority placed on quiet hospitals. According to the Journal Nursing Administration Quarterly, hospital noise levels exceed noise level recommendations and have the potential to increase patient complications.
The new Quietyme dashboard predicts the total amount of noise for individual nursing units throughout the day and identifies the largest causes of noise in remarkable detail– allowing staff to intervene while the opportunity still exists. By utilizing millions of points of sound data daily, hospital staff and administration receive data-driven and refreshingly specific solutions. Some of the primary features of Quietyme's new predictive dashboard include:
– Ability to learn from previous days to predict if the nursing unit is on pace to be under or over the budgeted goal for that day while there is still time to act.
– Generation of a complete breakdown of the causes of noise by classifying disturbances as either talking, alarms, abrupt noise or mixed activity and displays the proportion each as a percent of the total.
– Fitting into the nurse's daily work flow delivering solutions with only brief glances throughout the day.
– Providing useful metrics that indicate the quality of the healing environment.
– Allowing users to drill down to view the granular decibel data from every patient room, hallway and nurses station.

The dashboard is simple to use, Hospitals simply plug sensors in each patient room and nurse's station and a single hub to wirelessly collect the sensor data and then log into a secure and custom dashboard through a standard web browser. The new Predictive Dashboard is currently being rolled out to current customers and will be standard with all new customer going forward.