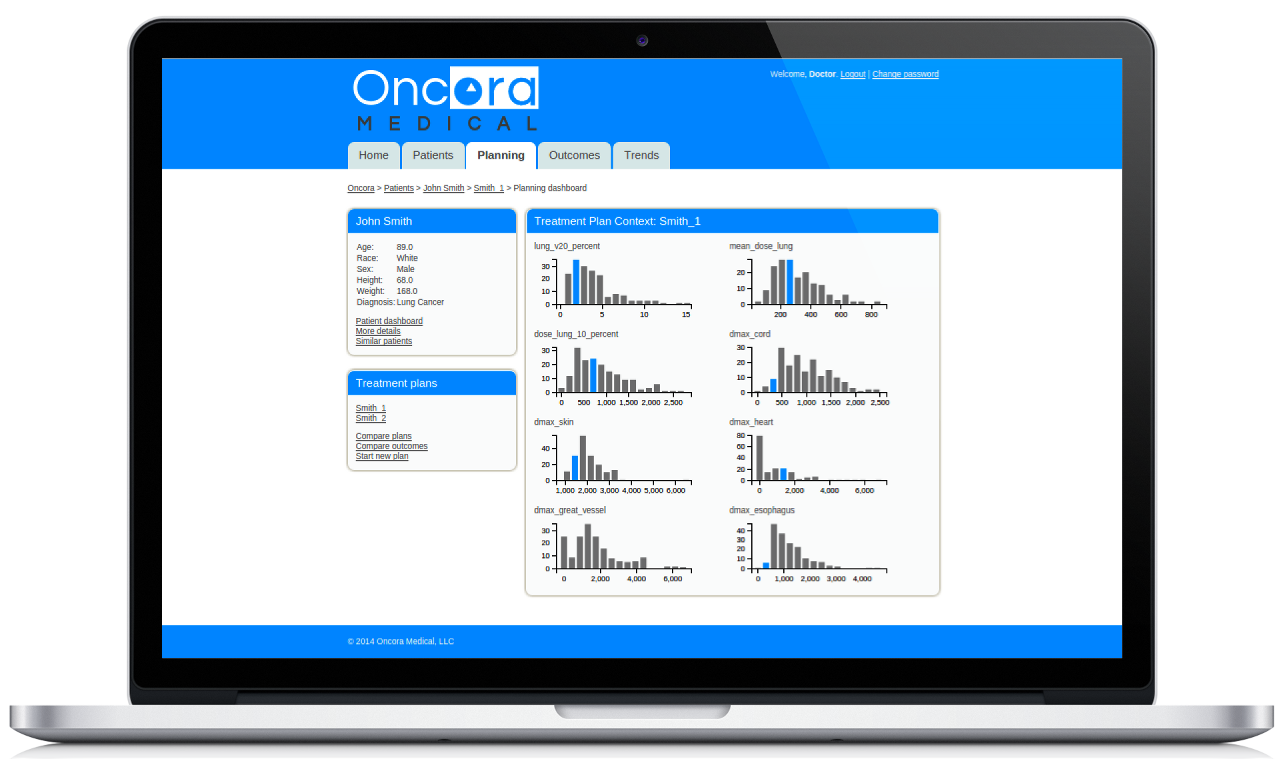 Oncora Medical, a Philadelphia-based digital health startup developing software to transform the way physicians treat cancer with radiation has raised $1.2M in seed financing from San Francisco-based iSeed Ventures, Philadelphia-based BioAdvance, and well-known medical physicist and entrepreneur, Dr. Thomas "Rock" Mackie. 
Proceeds from the financing will be used to build out their engineering team in Oncora's Philadelphia headquarters and accelerate early product installations with leading health systems. The team has also brought on Gary Kurtzman, MD, Managing Director, Healthcare at Safeguard Scientifics as Chairman. 
Founded by David Lindsay and Chris Berlind in 2014, Oncora applies machine learning to radiation therapy data to improve quality of life for cancer patients.Radiation is an important part of treatment for two-thirds of cancer patients. Currently, physicians have no way of integrating data from past treatments into their decision making process.
Meanwhile, patients receiving radiation are suffering from potentially avoidable negative side effects. Oncora's software platform harnesses this valuable data and arms doctors with powerful tools to create personalized treatments for future patients.  With Oncora, oncologists can analyze data with the power of a supercomputer, without leaving the patient's side.
How it Works
Oncora integrates patient information from across cancer centers, automatically. Radiation treatment planning data, institution-specific EMR data, and imaging data all enter Oncora's system and are seamlessly presented to the physician through clear visualizations. Each new patient's data can be displayed and interpreted in the context of previous similar patients. This is how Oncora's technology is using valuable lessons from the past to improve care in the future. 
Oncora's dose prescription system will allow all care team members to view patient radiation dosing in context of national standards, institutional averages, and regional benchmarks. Providers are also able to compare treatment plans head-to-head using Oncora's advanced analytics to assess predicted outcomes and adverse events on a patient by patient basis.
When asked how the technology will improve care for patients, Lindsay explains: "With access to data from tens of thousands of past patients, radiation oncologists can make highly informed treatment decisions and offer personalized treatment plans for future patients. These treatments will minimize the risk of toxicities while maximizing the chance for a cure. This is a big step towards personalized oncology care."
Oncora is also a participant in the University City Science Center's Digital Health Accelerator and is supported by the Ben Franklin Technology Partners of Southeastern PA, an initiative of the Pennsylvania Department of Community and Economic Development funded by the Ben Franklin Technology Development Authority.
"Oncora is a great example of Philadelphia's growing digital health ecosystem," said Gary Kurtzman, MD, Managing Director, Healthcare at Safeguard Scientifics (NYSE:SFE), who is joining Oncora's board of directors as chairman.  "David brought Oncora as a project to my healthcare entrepreneurship class at The Wharton School of the University of Pennsylvania last spring and continued to develop the project afterwards by joining the Dreamit Health Accelerator. David has also received support from Wharton Entrepreneurship, Penn HealthX, First Round Capital's Dorm Room Fund, Ben Franklin Technology Partners, and the University City Science Center's Digital Health Accelerator. The current round of funding represents strong additional support for the Oncora platform."