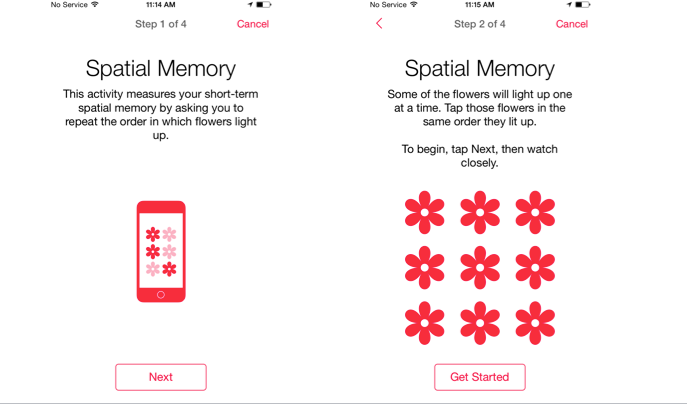 Last year's release of Apple ResearchKit sent shock waves throughout the medical research community as a number of new smartphone apps launched to help doctors and scientists quickly gather data for their studies. SageBionetworks, the nonprofit research group that developed mPower (one of the first ResearchKit apps), today released data from more than 9,500 of its app users, making it available to researchers worldwide to accelerate understanding of Parkinson's Disease. The dataset released today represents the first six months of data donated by mPower participants. Sage intends to add new data from the mPower app on a regular basis.
The dataset, which consists of more than half a million data points collected on a nearly-continuous basis, will provide researchers with unprecedented insight into the daily changes in symptoms and effects of medication for people with Parkinson's. In stark contrast to this, most Parkinson's studies being conducted today rely on data from small groups of people, typically fewer than 100, because of the difficulty in finding people to participate. The scale and scope of the mPower data are detailed in a paper published today in Nature Scientific Data and an accompanying editorial in NPJ Parkinson's Disease.
An estimated seven to ten million people worldwide are living with Parkinson's, a degenerative disorder which can cause tremors, speech problems, and interfere with memory.
Launched in March 2015, mPower collects data on abilities affected by Parkinson's disease, including dexterity, balance and gait, memory, and certain vocal characteristics, through tasks that make use of the phone's sensors. For example, to measure dexterity, users complete a speed tapping exercise on their phone's touchscreen and to evaluate speech, participants use their phone's microphone to record themselves phonating a vowel—saying Aaaaah—for 10 seconds. mPower also allows participants to record the time they do each task alongside the time they take any medication, to help determine the effects of that medicine on their symptoms. Participants also complete regular surveys, rating the severity of their symptoms and what they thought made them better or worse.
Unlike traditional studies, mPower participants are able to choose who to share their data with. Sharing options include only those researchers associated with mPower, or qualified researchers worldwide. So far, over 75 percent of the more than 12,000 mPower participants chose to share their data broadly with researchers. This cutting-edge consent process, which is the driving force behind the decision to widely release the mPower data set. 
"An overwhelming number of mPower participants have chosen to donate their data to science. Now science must do its part. As researchers, we must step up to the plate to make sense of all this data and translate it into real change in the lives of people suffering with Parkinson's," said Stephen Friend, MD, PhD, president of Sage Bionetworks.
From a preliminary analysis of the data, Sage has found enormous variation of symptoms within individuals, which could help researchers better pinpoint windows of intervention. Sage has also noted distinct patterns between medication intake and symptoms, insights that could eventually inform care and treatment regimes. By opening up the data and making it available to all researchers, Sage hopes to accelerate new insights that can be implemented in the clinic and lead to improvements in the lives of people with Parkinson's disease – insights that can only be realized with a large, open community of data scientists analyzing and re-analyzing the data. 
Researchers interested can become qualified and access the Parkinson's database via Synapse, a data and analysis sharing platform.