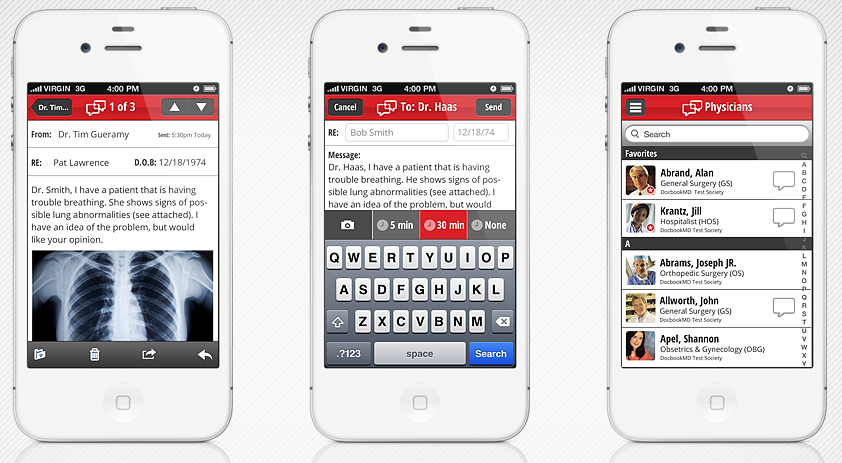 Scrypt, Inc., a leader in helping healthcare and lending customers streamline paper-intensive processes has completed the acquisition of Austin, Texas-based DocbookMD, a HIPAA secure patient care team collaboration platform. Financial terms of the acquisition were not disclosed. 
DocbookMD allows providers to send HIPAA-secure messages containing patient information and images such as X-rays, EKGs or photos from anywhere. Providers can set a 5 or 30 minute priority on a message and be actively notified if unread. All messages include time-stamp details, read status and can be forwarded to colleagues, printed or even electronically saved to the patient chart. 
One of the advantages of DocbookMD is that the information shared is stored on a secure server, so once the application is closed, the data is cleared from the device; if the device is lost or falls into the wrong hands, the patient information cannot be accessed without proper credentials, ensuring complete privacy and security.
Access to the DocbookMD community network is available through membership in participating county and state medical societies in 42 states. In addition, our paid Enterprise solution is used at leading Healthcare systems, ACOs, IPAs, hospitals, and clinics across the US. Clinical integrations are available to securely connect and send communications from third-party service providers like radiology departments, labs, answering services, even health plans. 
Currently, more than 30,000 medical professionals across 42 states utilize DocbookMD secure messaging platform. 
"DocbookMD was built by and for physicians initially to streamline and improve their communications by giving them access to a directory of their entire organization for easy collaboration," said Dr. Tim Gueramy, co-founder of DocbookMD. "Today, we're deeply involved in critical communications among the entire care team continuum – both in and outside of the hospital setting. By joining Scrypt, DocbookMD will continue to expand integrations within the entire healthcare arena."