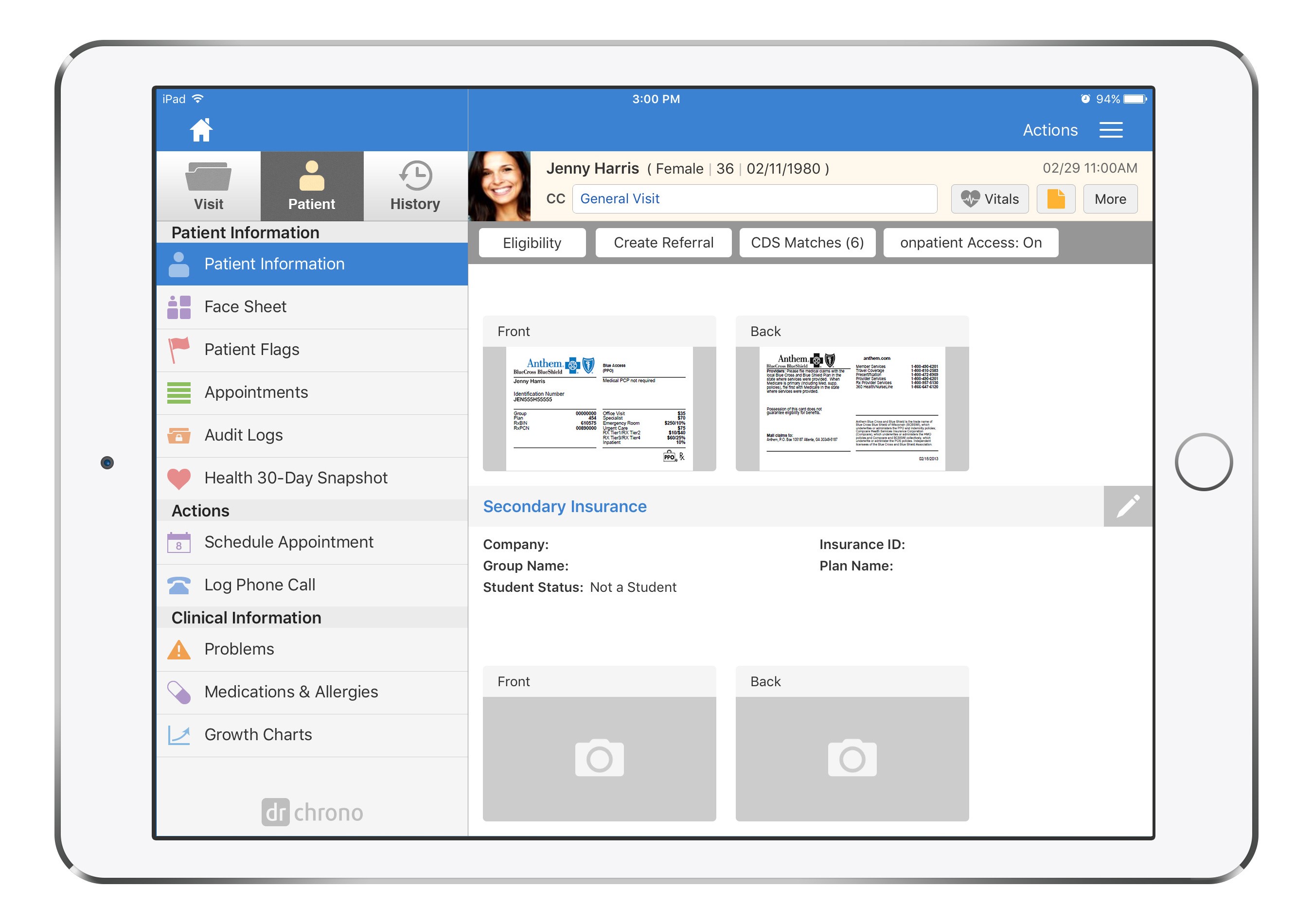 Mobile EHR provider drchrono today has released a new version of the its platform that now allows for electronic photo capture and storage of patient insurance cards and credit cards right through the app to help process more claims accurately. The drchrono iPad EHR, drchrono iPad patient check-in app and web portal allow a physician to take a photo of a paper insurance card and move it directly into the drchrono platform.
In addition, a patient can complete the same process right from the personal health record iPhone app, onpatient and send this information to their physician. 
For doctors this is a major step forward for collecting payments faster, as the number one source of rejected claims is not having the right insurance information from the patient. Based on the study data sample set of 10,000 medical claims that passed through the drchrono platform for 2015.
Percent of patient accounts receivable (AR) is due to missing credit card: 39.22%

Percent of rejected claims are due to bad patient insurance info: 55.85%
Michael Nusimow, CEO and co-founder of drchrono states, "Incorrect information from patient's insurance cards are the single largest source of rejected claims for most practices.  Not having a credit card on file for patients really adds up for a practice and is the single largest source of outstanding AR for most private practices in the U.S. Having both the correct insurance information and credit card information stored electronically on the drchrono platform will help the doctor get paid more for work they have already done and help reduce their days in Accounts Receivable that all of their claims go through.  By fixing these two issues across all medical practices in the U.S. we are putting billions of dollars back into the pockets of private practice doctors."
Daniel Kivatinos, COO and co-founder of drchrono added, "As a patient, when you're sick, bringing your insurance card or credit card to your doctor isn't on the top of mind. You are thinking about getting better and how can your doctor help. So having this information stored in your medical file at all times makes it easy for everyone: the patient, the doctor and staff."