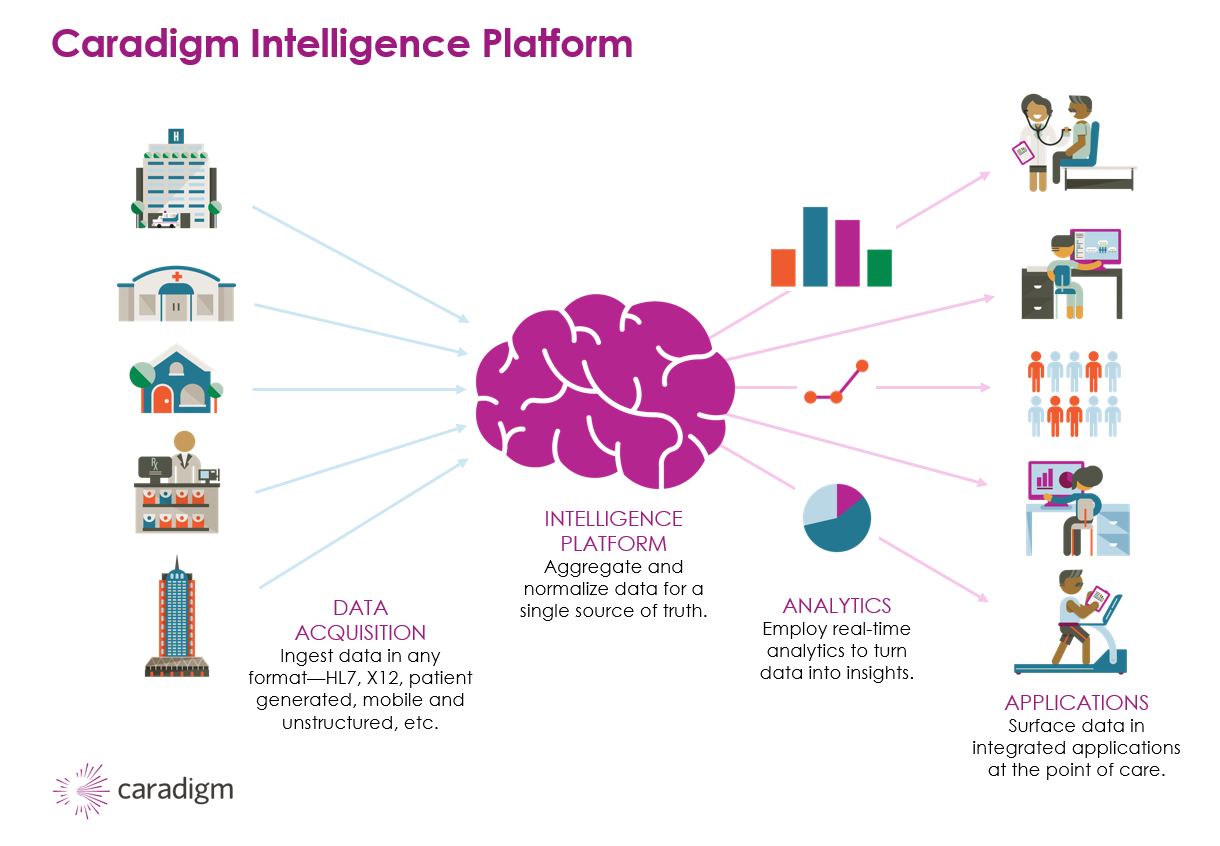 Enterprise population health provider Caradigm, today announced the launch of Open Exchange, a set of interoperability capabilities available to healthcare providers that use the Caradigm Intelligence Platform (CIP). The Caradigm Intelligence Platform aggregates and builds a rich data asset that supports a number of capabilities. It integrates with native Caradigm and third-party analytics and business intelligence tools for multi-dimensional analysis, visualization and reporting. 
Open Exchange supports more interoperability solutions and standards than any other healthcare platform — such as IHE.NET standards, DIRECT and a REST architecture – to support provider population health initiatives. Further, Open Exchange goes well above the capabilities offered by most interface engines as it is able to both ingest and codify data and deliver this information to anyone and anywhere within the healthcare community. Caradigm Open Exchange is planned for general availability in Q2 2016.
"Caradigm Open Exchange expands our longstanding commitment to interoperability and further strengthens our Intelligence Platform to enable providers with the most efficient and actionable method of ingesting, normalizing and presenting data across the care continuum," said Caradigm CEO Michael Simpson. "For population health to truly have an impact on the quality of healthcare delivery, IT systems across the healthcare community — whether they be from individual physician practices, hospitals, clinics, labs or radiology centers — must be able to seamlessly exchange data. Caradigm is committed to ensuring all of our solutions provide a consistent and standard way of connecting to other systems." 
ConCert by HIMSS™
In making Open Exchange available to its CIP customers, Caradigm also announced that it has received certification from ConCert by HIMSS.  Launched in 2015, ConCert by HIMSS is a testing and certification program that assures secure and reliable transfer of data among electronic health records, health information exchanges and health information services providers within and across organizational and state boundaries. The program addresses a key obstacle in today's healthcare system, which is that many IT systems cannot connect with each other, creating the need for costly and custom interfaces to be built each time systems are interconnected.
Caradigm Open Exchange will provide healthcare organizations with the ability to efficiently exchange information across the healthcare community by leveraging the Authentication, Authorization, Patient Consent, Auditing and Reporting, and Role-Based Access Control features of CIP. 
In addition, CIP will support on-demand document exchange, allowing for external standards-based queries to generate CCDA Clinical summaries to be exported back out. The certified solution also incorporates advanced Patient Identity Management, leveraging the market leading enterprise master patient index (EMPI – MatchMetrix®) by NextGate, a Caradigm partner.
Caradigm will be participating in the Interoperability Showcase at HIMSS16, demonstrating scenarios that highlight the value of interoperability in healthcare.