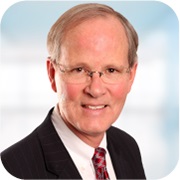 On Friday, Cerner appointed John Glaser senior vice president of Population Health and Global Strategy starting April 1st. In his new role, Glaser will focus on driving Cerner's population health technology and product strategies, interoperability and government policy development, according to the press release.
"Cerner is committed to working with our clients to manage the health of populations, improve outcomes and reduce the cost of health care," said Zane Burke, president, Cerner. "John has devoted his career to advancing health care through innovation and is incredibly prepared to lead Cerner's strategy and champion further advancements in the population health space."
John joined Cerner in 2015 as a part of the Siemens Heath Services acquisition, where he was CEO. Prior to Siemens, John was vice president and CIO at Partners HealthCare; he also previously served as vice president of information systems at Brigham and Women's Hospital.
"Population health management is the future of health care as the industry transitions to new payment models and focuses more on providing care outside the four walls of the hospital," said John Glaser, senior vice president in an official statement. "Cerner will continue innovating to bring the best solutions to market and enable organizations to develop near- and long-term strategies to manage their populations."