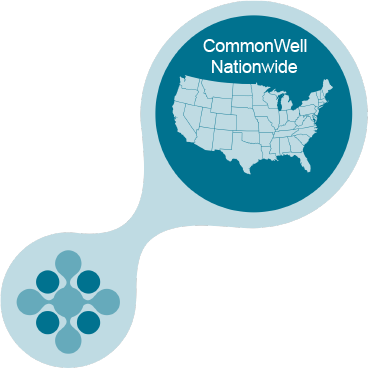 CommonWell Health Alliance is expanding its cross-vendor interoperability services to the post-acute market with vendors Brightree, Cerner and McKesson among the first CommonWell members committed to deploying these services nationwide in 2016. The not-for-profit association is the first and only national network to facilitate patient-centric identification, record location and query and retrieval of clinical chart data, planned to expand the reach of its services to enable real-world exchange in other care settings such as post-acute, emergency medical services, laboratory and more.
The plan is to put health information in the hands of caregivers across the continuum, including patients themselves, with data access from other health information technology systems, patient portals and apps.
Break down the barriers to cross-vendor HIT Interoperability
A recent study indicated a low level of health information exchange among post-acute settings, particularly the ability to send and receive data.2 The CommonWell services, which include person enrollment, record location, patient identification and linking, and data query and retrieval, will begin in the first quarter of the year for post-acute facilities.
"This patient population typically requires care from multiple providers in a variety of highly divergent settings," said Jitin Asnaani, executive director of CommonWell Health Alliance in an official statement. "Our collective experience across the continuum can help break down the barriers to cross-vendor HIT interoperability and make a dramatic difference in care coordination among ambulatory, acute and post-acute settings of care, with the ultimate goal of better patient outcomes."
Each year more than 10 million Medicare beneficiaries are discharged from acute care hospitals into a variety of post-acute care settings, including long-term care hospitals, rehabilitation facilities, skilled nursing facilities and patients' homes with services from home health and hospice agencies. More than 66 percent of these Medicare beneficiaries have two or more chronic conditions with 14 percent having six or more.1
Here is a look at the 3 inaugural CommonWell Alliance members committed to deploying interoperability services to the post-acute market: 
Brightree, a leading provider of cloud-based software and services focused on improving clinical and business performance across the post-acute care industry, plans to deploy CommonWell services to its home health and hospice customers during its next winter release of Brightree Home Health and Brightree Hospice.
Cerner, a Founding Member of the Alliance, will extend CommonWell services to its long-term care client base early this year. A recent pilot study, co-authored by Cerner, found that providing long-term care organizations with access to electronic information exchange helped lower rates for inpatient readmissions and return emergency department visits.3
Also a Founding Member of CommonWell, McKesson is dedicated to the mission of making patient data available to patients and providers regardless of where care occurs. McKesson is planning to make CommonWell services available in March 2016 to home health and hospice providers using McKesson Homecare™ and McKesson Hospice™.4
To date, nearly 4,400 provider sites in all 50 states, the District of Columbia (D.C.) and Puerto Rico have gone live with CommonWell services and an additional 3,500 sites have committed to using CommonWell services in the future.
References
1 Centers for Medicare and Medicaid Services. (2013). Chronic Conditions among Medicare Beneficiaries: Chartbook: 2012 Edition, Baltimore, MD. 2012.
2 Wolf L, Harvell J, Jha AK. Hospitals ineligible for federal meaningful-use incentives have dismally low rates of adoption of electronic health records, Health Affairs. 2012 Mar;31(3):505-13.
3 Yeaman, B., Ko, K., del Castillo, R., (September 30, 2015) "Care Transitions in Long-term Care and Acute Care: Health Information Exchange and Readmission Rates" OJIN: The Online Journal of Issues in Nursing Vol. 20 No. 3.