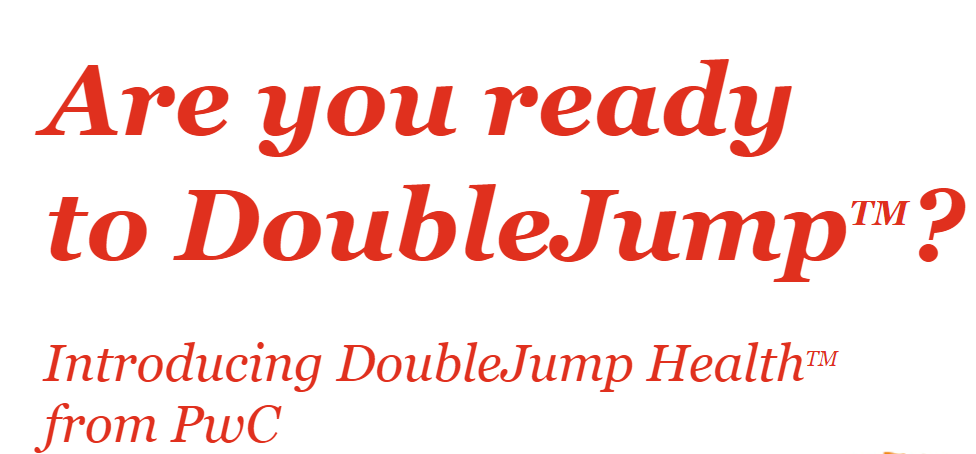 PwC's Health Industries Group today launched DoubleJump Health, a consumer health accelerator that speeds the pace of innovation in person-centered health and brings medical and scientific breakthroughs to the market more quickly. The two-initiative will evolve our approach to medical research that includes 1) a new data sharing platform aimed at expediting medical discovery by breaking down health data barriers among the diverse array of healthcare industry players and 2) a digital health-outcomes simulator designed to better manage chronic health issues at the patient and population levels:
– DoubleJump™ Interchange: First-of-its-kind storage platform that enables organizations to share data across payers, providers, pharma, life sciences, medical device companies, research organizations and new entrants through one seamless cloud-based ecosystem in order to expedite clinical breakthroughs. For example, DoubleJump™ Interchange can help connect the dots between a patient's wearable device data collected at home, to their vital signs taken at a retail clinic, to their historical health data stored with their primary care doctor. This improved access to a patient's longitudinal health data is important during a time when, according to PwC's Health Research Institute, 81% of consumers are open to non-traditional care delivery, such as telehealth or retail clinics1. Yet, 48% of physicians believe that non-traditional care settings have had a negative impact on care coordination2. Thus, there is work to do to prove to physicians the value of accurate and reliable integrated health data in improving care delivery.
– Bodylogical™: Bodylogical™ mirrors the system of connected physiological components in the human body, focused on major areas such as circulatory, respiratory, digestive, endocrine and renal, which are most effected by chronic diseases. Put together, PwC can create a "virtual consumer" that can be manipulated to see how one change in the body impacts other systems and overall health. For example, it can show the impact sleep and exercise have on a person's risk of developing diabetes over time.
This service can enable payers to identify at-risk individuals and populations to predict and mitigate negative outcomes; pharmaceutical companies to run faster and more efficient clinical trials with greater certainty about their results; and it can connect to a range of existing health technologies, even consumer-level mobile devices and wearables, to help consumers and the entire health community understand the impact of decisions on overall health. A crucial technology, given chronic diseases cause 70% of deaths in the U.S. and account for 86% of the nation's $3.2 trillion in healthcare spending.
"Big data – the industry's most advanced, current decision-making tool – is backward looking. It enables statistical models of the past outcomes of populations to make broad predictions about future ones. With Bodylogical™, we can go beyond big data and look forward to show the impact of health choices before they are made," said Paul D'Alessandro, principal, PwC Health Industries.
PwC will be providing demos of DoubleJump Health™, the Interchange or Bodylogical™ next week at  at the HIMSS 2016 Conference & Exhibition in Las Vegas. On Tuesday, March 1 and Wednesday, March 2, there will be special screenings of films and demonstrations featuring the innovative work being done with the DoubleJump™ Interchange to help combat diabetes in South Texas, and the predictive innovation in chronic disease being done via Bodylogical™.
1 "Primary care in the New Health Economy: Time for a makeover" PwC Health Research Institute, AccessedFebruary 12, 2016 https://www.pwc.se/sv/halso-sjukvard/assets/primary-care-in-the-new-health-economy-time-for-a-makeover.pdf
2 "Primary care in the New Health Economy: Time for a makeover" PwC Health Research Institute, AccessedFebruary 12, 2016 https://www.pwc.se/sv/halso-sjukvard/assets/primary-care-in-the-new-health-economy-time-for-a-makeover.pdf
3 "Chronic Disease Prevention and Health Promotion" Centers for Disease Control and Prevention, AccessedOctober 29, 2015 http://www.cdc.gov/chronicdisease/
4 Ibid