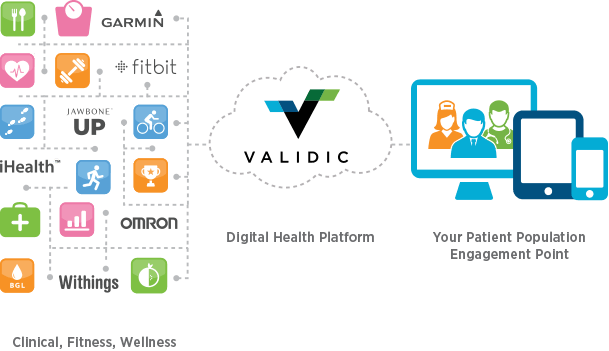 Digital health integration platform Validic is teaming up with Philips to integrate personal health data from third-party devices and apps into connected health services. The partnership will enable the integration of consumer-generated health data into Philips cloud-based HealthSuite digital platform  such as its Personal Health Programs, Lifeline medical alert services and eCareCoordinator and eCareCompanion eHealth apps to power connected health solutions and services. These connected health solutions and services have been designed to facilitate coordinated care across the health continuum from healthy living and prevention to diagnosis, treatment and home care.
The Philips HealthSuite digital platform enables connected health services by utilizing smart devices and mobile apps to help people make more confident health and lifestyle-related decisions. Through its integration capabilities with electronic medical records and other clinical data sources it also supports health systems in the delivery of care coordination solutions. Patients and their care providers are given actionable and longitudinal insight through the combination of clinical and personal health data.
The collaboration with Validic will further augment the integration of consumer-generated personal health data from multivendor fitness wearables, remote monitoring devices and health apps, as well as medical devices like blood pressure cuffs, health patches and glucose meters, into existing and new connected health services.
"With a strong presence in both professional health care and consumer health spaces, Philips understands the global impact of people better managing and engaging with their health. They also recognize the industry need for making this remotely collected health data actionable for care providers," said Ryan Beckland, CEO and co-founder of Validic in an official statement. "Philips and Validic share a similar vision on connected health and recognize the importance of leveraging digital health data collected outside of the clinical setting to improve the quality of care and patient outcomes."
Validic's digital health integration platform currently reaches approximately 223 million people in 47 countries. The company recently unveiled VitalSnap, a new mobile technology that enables users to easily record health data from their in-home device via their smartphone's camera. Leveraging optical character recognition (OCR), VitalSnap enables patients to use their smartphone to quickly capture readings from non-connected digital health devices, such as thermometers and blood pressure cuffs, from the phone's camera without taking a picture.
The information can then recorded within an application and transmitted to a providers' EHR or patient portal. VitalSnap powers easy data accessibility by enabling patients to keep an accurate record of readings while automatically updating physicians or care teams with that data as part of a care treatment plan.