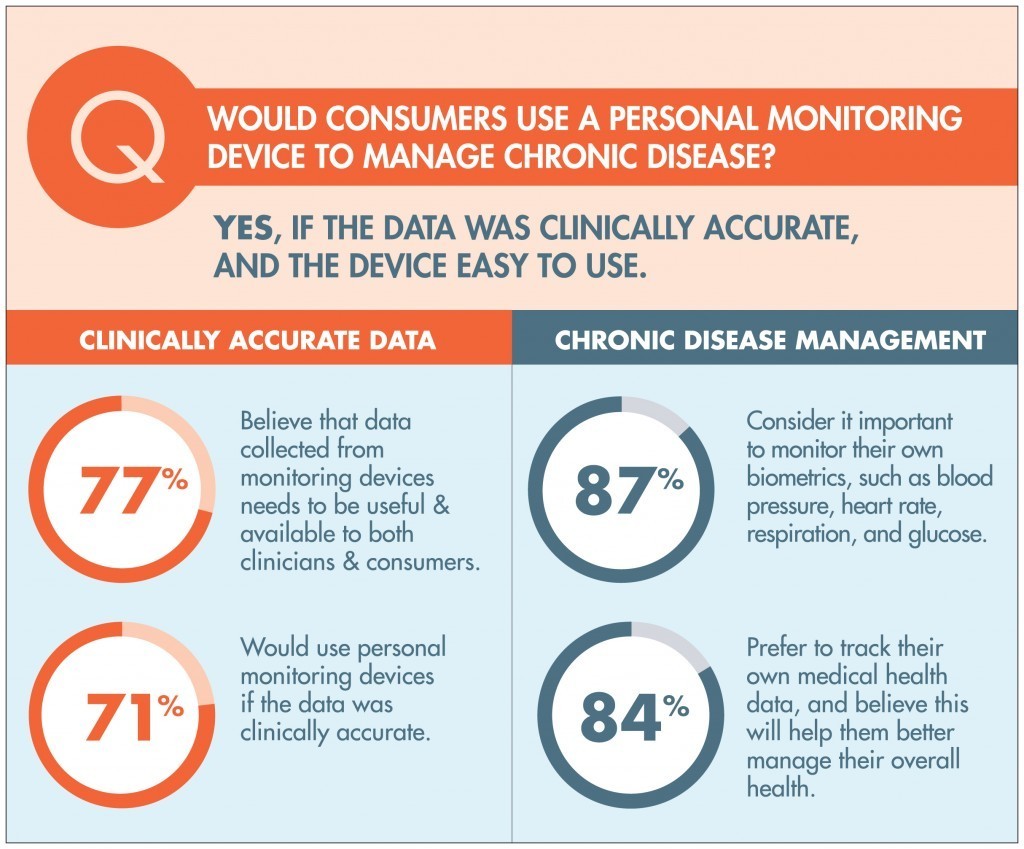 71 percent of adults would use a personal health monitoring device if it was clinically accurate, according to a national survey of 1,000 respondents commissioned by The Society for Participatory Medicine and healthcare technology company Biotricity Inc. The survey reveals that more than 8 out of 10 consumers (84 percent) believe that tracking their own health data with a clinically accurate health monitoring device will help improve their overall health.
"Americans are tremendously in favor of technology that allows them to self-manage their chronic conditions and proactively manage and monitor their health," said Waqaas Al-Siddiq, president and CEO of biotricity, Inc. "Chronic illness such as heart disease has created an increasing burden to worldwide healthcare infrastructures, and preventive care is recognized as a vital component of any comprehensive healthcare service. Unlike wearables that are not capable of providing clinical-grade data, we recognize that the future lies with empowering individuals with robust self-management solutions, and we believe the survey findings demonstrate that Americans are eager to use these tools to manage their personal health issues."
In fact, participants were in support of using a personal health monitoring device that provides tracking of blood pressure, heart rate, respiratory rate, glucose, physical activity and other key assessments if it was clinically accurate and easy to use. As patients become more engaged in supervising their own health and collaborating with their healthcare professionals, the most common reasons for the 3 out of 4 who would use a personal monitoring device include:
| Reasons 75 Percent of American Adults Would Wear Personal Monitoring Devices to Manage Health | Percent of Americans |
| --- | --- |
| For personal use AND to share with their healthcare professional | 57% |
| For personal use only | 13% |
| For healthcare professional use only | 5% |
With the number of people being diagnosed with cardiovascular disease (CVD) at an alarming rate, clinically accurate monitoring devices can provide a much-needed solution to improve outcomes. In fact, healthcare continues to emphasize preventive care in an effort to mitigate the rising demand that the growing CVD population is placing on the system. However, traditional methods are failing to ensure that CVD patients comply with their physicians' medical directives, including but not limited to medication adherence, dietary changes, lifestyle changes, and exercise regiments.
"Increasingly, patients are actively monitoring their own health data to better self-manage their chronic diseases and collaborate with their healthcare professionals. Self-monitoring is a vital component of an efficient and high-functioning healthcare system. This survey shows that this concept resonates with the public and that most respondents are willing to utilize technology to gather this data to improve their health," said Daniel Z. Sands, MD, MPH, co-founder and co-chair of the Society of Participatory Medicine and a practicing physician in an official statement on the study.