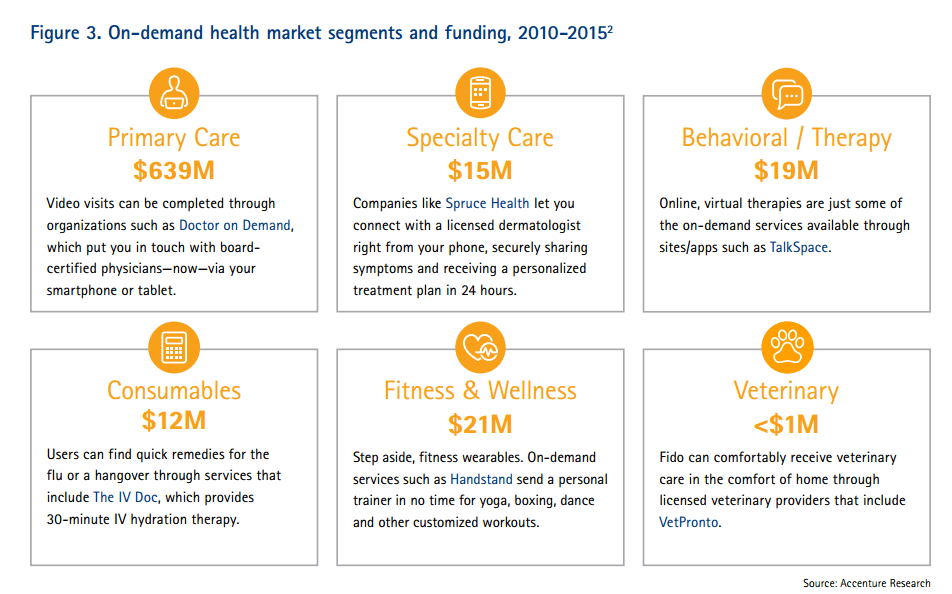 US funding for on-demand healthcare companies – those providing location-based offerings with near-real-time and 24/7 services – will quadruple from over $200 million in 2014 to $1 billion by the end of 2017, according to new research from Accenture.  Since 2000, the top 230 on-demand companies have raised more than $12.5 billion, distributed across six main sectors: auto and transportation (76 percent); food and drink (10 percent); health (6 percent); household chores (3 percent); logistics (3 percent); and professional services (2 percent).
Health represents the second fastest growing on-demand segment. The number of on-demand health service companies has spiked from four in 2010, to 42 in 2014, with annual investment growing at a CAGR of 224 percent over the same time period. 2 of the top 10 funded on-demand companies were focused on healthcare – Teladoc ($245M) and American Well ($145M). 
Already, pioneering organizations are creating new experiences that blend on-demand categories. Ecosystem permutations include combining the Food & Drink and Health categories. Imagine the clinical benefits when diabetics or heart disease patients have low-sodium, low-fat or vitamin-rich foods delivered to their door.
By combining Auto & Transportation and Household Chores, consumers can successfully "age in place." Even more, those in urban settings can take advantage of convenient Health services, such as in-home visits delivered to patients at home or at the office. 
5 Forces Driving the On-Demand Healthcare Economy 
According to Accenture's research, some of the main forces driving interest and investment in on-demand healthcare are:
– Government support: Large payers are now reimbursing virtual doctor's appointments, with government backing. Twenty-nine (29) states have telehealth parity laws, up from 20 in 2014.
– Attractive economics: On-demand virtual visits are less expensive for consumers: up to 40 percent less expensive for primary care, 28 percent less expensive for urgent care, and 3 to 7 percent less expensive for emergency-room visits.
– Technology maturation: Roughly 190 million people in the U.S. own smartphones. As the number of mobile users rises, so too will the demand for mobile health services.
– Cultural adoption: Expectations for seamless, coordinated services are not limited to Gen X or Y; more than half (57 percent) of seniors are also interested in digital health options.
– Plan design: Payers want to create best-in-class benefits packages with new products and services that will attract and retain members. On-demand services can be the differentiator.
Report Background/Methodology 
Accenture assessed the number of on-demand companies and investment funding from 2010 through September 2015. The analysis focused on early-stage, digital-first businesses that through connected devices offer closed-loop, human-delivered experiences to the consumer in near real time. Companies are identified and vetted by Accenture, with funding data collated from a number of primary and secondary sources.