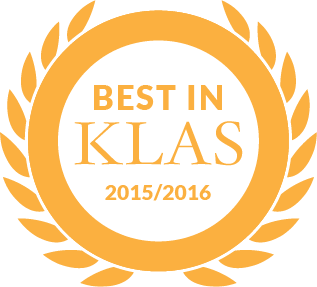 The 2015/2016 Best in KLAS report published today named Epic and Impact Advisors as the 'Overall Best in KLAS based on the feedback of their customers. Epic earned the ranking of number one Overall Software Suite for the sixth consecutive year and was also named the top Overall Physician Practice Vendor including receiving an additional seven Best in KLAS awards in seven segments.
Health IT consulting firm Impact Advisors was ranked the number one Overall IT Services Firm for the fourth consecutive year, as well as a Best in KLAS for IT Advisory Services. A notable 20% score increase from last year earned population health vendor Medicity recognition as the overall most improved vendor. Medicity customers report significantly higher levels of satisfaction when it comes to vendor support and delivery speed, saying that Medicity has been setting much clearer delivery expectations and has increased the speed at which they deliver interfaces and respond to customer requests. 
The title of Best in KLAS represents a recognition of outstanding efforts to help healthcare professionals deliver better patient care. It is reserved for vendor solutions that lead the software and services market segments with the broadest operational and clinical impact on healthcare organizations.
Here is a look at the full list of Best in KLAS winners and Category Leaders: 
SEGMENT LEADERS: SOFTWARE
| Category | Recipient |
| --- | --- |
| Acute Care EMR  | Epic EpicCare Inpatient EMR (Large – Over 200 Beds) |
| Ambulatory EMR (1-10 Physicians) | CureMD EMR (1-10 Physicians) |
| Ambulatory EMR (11-75 Physicians) | athenahealth ​athenaClinicals |
| Ambulatory EMR (Over 75 Physicians) | Epic EpicCare Ambulatory EMR (Over 75 Physicians) |
| Business Intelligence/ Analytics | Dimensional Insight The Diver Solution |
| Cardiology | Merge Cardio |
| Claims and Clearinghouse | ZirMed Clearinghouse |
| Community HIS | MEDITECH C/S Community HIS (v.6) (Small – 1-200 Beds) |
| Document Management and Imaging | Hyland OnBase |
| Emergency Department | Wellsoft EDIS |
| ERP | Oracle PeopleSoft Enterprise |
| Global (Non-US) Acute EMR | InterSystems TrakCare EPR |
| Global (Non-US) PACS | Sectra PACS (Non-US) |
| Global (Non-US) Patient Administration Systems  | Cerner Millennium Patient Administration System (Non-US) |
| Health Information Exchange (HIE) | Epic Care Everywhere |
| Homecare | Thornberry NDoc |
| Laboratory | McKesson Lab |
| Long-Term Care | PointClickCare |
| PACS | Sectra PACS (Large – Over 200 Beds) |
| Patient Access | Experian Health eCare NEXT (Passport) |
| Patient Accounting and Patient Management | Epic Resolute Hospital Billing (Large – Over 200 Beds) |
| Patient Portals | Epic MyChart |
| Population Health | IBM Population Health Management Suite (Phytel) |
| Practice Management (1-10 Physicians) | CureMD PMS |
| Practice Management (11-75 Physicians) | athenahealth athenaCollector (11-75 Physicians) |
| Practice Management (Over 75 Physicians) | Epic Resolute/Prelude/Cadence Ambulatory (Over 75 Physicians) |
| Radiology | Merge Unity RIS (DR Systems) |
| Speech Recognition – Front End | Dolbey Fusion SpeechEMR (EMR) |
| Surgery Management | Epic OpTime |
| VNA/Image Archive | Merge iConnect Enterprise Archive |
​SEGMENT LEADERS: PROFESSIONAL SERVICES
| Category | Recipient |
| --- | --- |
| Application Hosting (CIS ERP HIS)  | Cerner Application Hosting (CIS/ERP/HIS)  |
| Extended Business Office | ​Navigant Cymetrix |
| Extensive IT Outsourcing | CareTech Solutions |
| HIT Enterprise Implementation Leadership | Navin, Haffty & Associates (NHA) |
| HIT Implementation Support & Staffing | Galen Healthcare |
| IT Advisory Services | Impact Advisors |
| Partial IT Outsourcing | CareTech Solutions |
| Revenue Cycle Transformation | Deloitte Consulting |
| Technical Services | Galen Healthcare |
| Value-Based Care Advisory Services | Premier |
| Value-Based Care Managed Services | Lumeris |
​CATEGORY LEADERS: SOFTWARE
| Category | Recipient |
| --- | --- |
| 340B Management Systems  | Macro Helix 340B Architect  |
| Acute Care EMR (Community) | Cerner Millenium PowerChart/CommunityWorks Clinicals |
| Alarm Management | Connexall |
| Anatomic Pathology  | Cerner CoPathPlus |
| Anesthesia  | Epic Anesthesia Information Management System |
| Cardiology Hemodynamics  | Merge Hemo  |
| CDI Software  | Chartwise CDI  |
| Chargemaster Management  | Craneware Chargemaster Toolkit  |
| Claims Management  | MedAssets Claims Management  |
| Clinical Decision Support – Care Plans  | Zynx Health ZynxCare  |
| Clinical Decision Support – Order Sets  | Zynx Health ZynxOrder  |
| Clinical Decision Support – Point of Care Clinical Reference  | VisualDx (Logical Images)  |
| Clinical Decision Support – Surveillance   | Wolters Kluwer Pharmacy OneSource Sentri7 |
| Computer-Assisted Coding  | Optum Optum360 Enterprise CAC  |
| Decision Support – Business  | Strata Decision StrataJazz Decision Support  |
| ECG Data Management  | Epiphany Healthcare Cardio Server  |
| Enterprise Advanced Visualization  | Philips IntelliSpace Portal  |
| Enterprise Scheduling  | Streamline Health Looking Glass Enterprise Scheduling and Resource Management  |
| Image Exchange  | DICOM Grid DG Suite  |
| Infection Control and Monitoring  | BD MedMined (CareFusion)  |
| Integration ​Engines  | Corepoint Health Integration Engine  |
| Interactive Patient Systems  | TVRC pCare  |
| Labor and Delivery  | Clinical Computer Systems OBIX Perinatal Data System |
| Laboratory (Small/Ambulatory)  | Orchard Harvest LIS  |
| Medical Device Integration Systems  | Capsule DataCaptor  |
| Medical Records Coding  | 3M Codefinder  |
| Mobile Data Systems  | Ingenious Med impower & MedAptus Pro Charge Capture  |
| Oncology  | Varian ARIA |
| PACS (Ambulatory)  | INFINITT PACS  |
| PACS (Community)  | INFINITT PACS  |
| Patient Accounting and Patient Management (Community)  | MEDITECH C/S Patient Accounting  |
| Patient Flow  | TeleTracking Capacity Management Suite  |
| Patient Privacy Monitoring  | Iatric Systems Security Audit Manager  |
| Pharmacy – Outpatient (Retail)  | QS/1 NRx  |
| Point of Use Inventory Management | PAR Excellence Systems  |
| Quality Management  | Nuance Clintegrity 360 Quality Management Solutions  |
| Real-Time Location System (RTLS) | STANLEY Healthcare MobileView  |
| Secure Messaging  | Imprivata Cortext  |
| Single Sign-On  | Imprivata OneSign Single Sign-On  |
| Speech Recognition – Back End  | Dolbey Fusion Speech  |
| Staff/Nurse Scheduling  | GE Healthcare API Healthcare ShiftSelect |
| Talent Management  | Halogen Software ​TalentSpace for Healthcare  |
| Time and Attendance | Kronos Workforce Timekeeper  |
| Treatment Planning  | Varian Eclipse  |
| Urgent Care  | Practice Velocity VelociDoc Tablet Urgent Care  |
CATEGORY LEADERS: SERVICES 
| Category | Recipient |
| --- | --- |
| Business Solutions Implementation Services  | Xerox  |
| CDI Services  | PwC  |
| Go-Live Support  | Apex Systems  |
| Outsourced Coding  | Oxford Healthcare IT (On Assignment)  |
| Release of Information  | MRO Corp  |
| Revenue Cycle Outsourcing  | MedAssets  |
| Transcription Services  | FutureNet  |