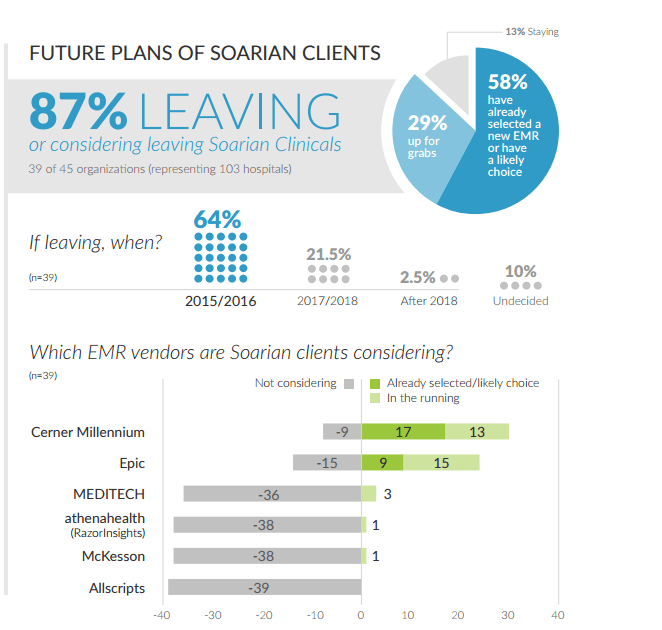 More than a year ago, Cerner acquired Siemens Health Services, which caused a shift in the marketplace as healthcare IT options would change. In a new KLAS report "Cerner/Siemens Acquisition: Soarian Migration in High Gear," examines looked the impact the acquisition has had on customers from both companies. The report found that 87% of Siemens' Soarian Clinicals customers are leaving or planning to leave and find a new EMR system by the end of 2016.
Customers Now View Soarian as an Orphaned Product
KLAS reports that despite Cerner's promise to continue to develop Soarian Clinicals over the next decade, Soarian customers now view it as an orphaned product. This is largely due to declining customer experience driven by deficient support and a lack of new development —the same problems customers reported before the acquisition.
Some respondents even stated they did not see the need for Cerner to pump wasted dollars into Soarian when they already have highly rated EMR in their portfolio. However, KLAS reports there are a few customers are still hopeful that Cerner will address these gaps.
"My sense is that Cerner will eject Soarian Clinicals as fast as they can figure out how to do it without losing too many people……..The Soarian Clinicals product is just starting to mature and become very formidable, but now we don't know what will happen. Cerner's 10-year commitment to Soarian Clinicals doesn't feel like much," stated a CIO in the KLAS report.
Prior to the acquisition, Soarian clients moving away from the product moved almost exclusively to Epic. Now, however, many are considering Cerner's PowerChart system as a strong option.
Revenue Cycle Performance Continues to Lag
Cerner Patient Accounting and Soarian Financials continue to be two of the lowest-performing revenue cycle related products. Despite this, providers using both products are hopeful the acquisition will bring positive change. As it stands, Cerner will need to make significant changes to elevate both solutions to become viable revenue cycle contenders to compete against Epic.
"Cerner's acquisition of Siemens touches the foundational HIT systems of hundreds of provider organizations and has Soarian customers on an accelerated path to an EMR change," said Coray Tate, vice president of clinical research at KLAS in a statement. "Patient accounting customers are hoping the vendors' historically weak financial systems will become stronger together."